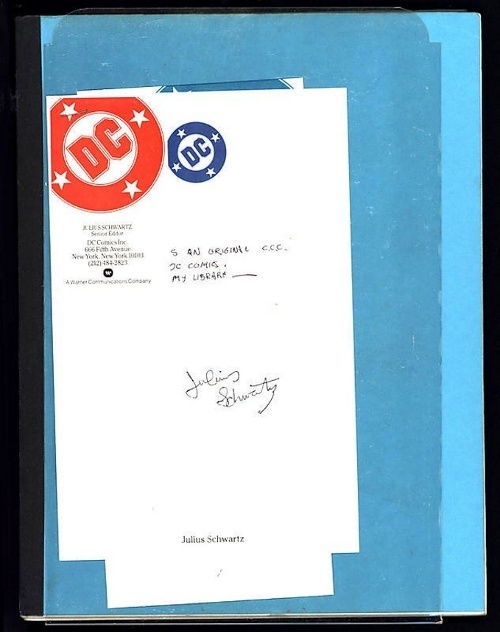 An extremely rare artifact of 70s comics has come to market: a set of Cancelled Comics Cavalcade belonging to comics writer, artist, and self-publisher Bob Burden, who characterized the offering as "the Maltese Falcon of 70s comics," and "the granddaddy of all ashcans." One of 35 copies created by DC Comics in 1978, the ashcan edition, created to preserve copyright on the stories within, has a letter of provenance from DC editor Julius Schwartz.
Two volumes contain 13 comic stories and some additional cover art for issues that were canceled after the DC Implosion, a rapid downsizing of the DC line that year.
Burden told ICv2 that he acquired the set some time ago "from a dealer that owed me some money on a deal" and put it away and brought it out now to help finance a relaunch of his flagship property,
Flaming Carrot.
He listed it with Comic Connect, because "they're good buddies of mine and we've had a working relationship for years."
The list price is aggressive, at $45,000. Burden points to analysis of the title by website
Nostomania
, which extrapolates from known sales. Very few copies have changed hands, and none recently since the big run-up in values for rare books. The most recent sales for which prices are known were in 2004 for around $3200, and in 2006 for around $4000. The 2004 sale, through Heritage, was the basis for Nostomania's current value estimate, which supports Burden's pricing.