Stan Lee passed away this morning at Cedars-Sinai Medical Center in Los Angeles, a family spokesperson told Hollywood Reporter. Lee had a hospital stay earlier this year (see "Stan Lee Hospitalized") and had been in declining health recently. He was 95.

Lee's passing marks the end of the era of the original creators of the modern Marvel universe. Along with Jack Kirby (who died in 1994) and Steve Ditko (who died earlier this year, see "RIP Steve Ditko"), Lee co-created the key characters and storylines of that universe. Lee also bridged the Golden, Silver, and modern ages of comics; he was present in comics' earliest days and saw its flowering into the most powerful force in modern pop culture.

Lee was also the irrepressible face of Marvel, establishing a brand closely associated with him and with the qualities he represented: good humor, endless promotion of Marvel, a drive to transcend the genre with stories that tapped into universal human concerns, and a progressive outlook on social issues, especially those involving race.

Lee started at Timely Comics in 1939, and became editor two years later. He remained editor (except for his time in the military during World War II) until 1972, when he transitioned to Publisher. He was on the Marvel executive team when the decision was made to open Phil Seuling, the company's first Direct Market distributor, in 1974 (see "The Origin of the Comics Direct Market – Part 1").

Lee remained Publisher until 1980, when he moved to Los Angeles to work on animation and other Hollywood efforts. Eventually he transitioned to a role as a representative of the company and its characters.

Lee's non-Marvel activities later in his life had mixed results. His name was used for a company founded in the midst of the dot com boom in 1998 that eventually failed, dissolved, and was investigated (although Lee was not suspected of any wrongdoing, see "SEC Probing Stan Lee Media").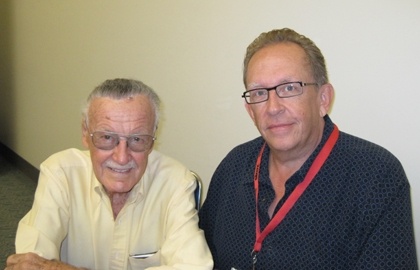 In 2009, ICv2 interviewed Lee in conjunction with a collaboration on a Shonen Jump title with manga-ka Hiroyuki Takei (see "
ICv2 Interviews Stan Lee
").
Since Lee's wife of 69 years Joan passed away in July of 2017, Lee's life had taken a turn for the worse, with a series of incidents involving bad actors in his life that in one court case led to a guardian ad litem being appointed to represent him in a restraining order matter. There was also litigation with POW Entertainment, a company authorized to use his name and likeness (see "
Stan Lee Files $1 Billion Lawsuit
").
But on the positive side, his years in Los Angeles raised his profile, and that of Marvel characters, tremendously. He was visibly involved in the creation of the Marvel Cinematic Universe, with cameo roles in the movies, and also appeared in Marvel movies by Fox and Sony. Until near the end, he had a heavy touring schedule of comic conventions, where he'd regale fans with his stories and sign autographs for wide-eyed kids and adoring adults.
ICv2 CEO Milton Griepp released a statement:
"I knew Stan Lee from my earliest days in the business, and found him to be vital, creative, unfailingly optimistic, funny, and caring. One of my best memories of him was at a 30th birthday party for Spider-Man we threw at a Capital City Distribution Sales Conference for retailers in Madison, Wisconsin. It turned into a Spider-Man roast, with Stan on stage as Peter David entertained the crowd, and later speaking himself. Years later, when I was meeting with Stan in conjunction with a Next Planet Over/Stan Lee Media deal, he introduced me to his colleagues with "this guy throws a great party," bringing back memories of that evening.
"On behalf of the entire ICv2 team, I want to express our sympathies to his family and friends for their loss. We have great appreciation for everything he did to create the business in which we earn our livelihoods, and his amazing legacy as a creative force. Thanks, Stan."