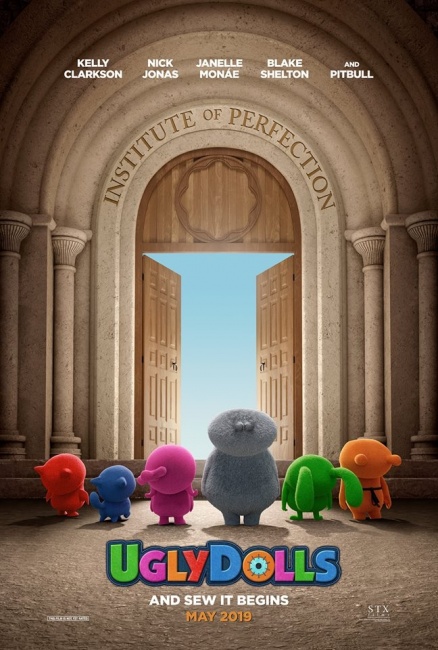 STX Films has shared the first trailer for the
UglyDolls
animated feature starring the acting and singing voices of Kelly Clarkson, Nick Jonas, Janelle Monae, Blake Shelton, and Pitbull.
In the adorably different town of Uglyville, weird is celebrated, strange is special and beauty is embraced as more than simply meets the eye. Moxy and her friends go to see if there's anything on the other side of the mountain that borders Uglyville, and they discover the town of Perfection, where dolls are trained in protocols before graduating and being sent into the real world to be paired with children.
The May 10, 2019 theatrical release date was announced this summer (see "
Live Action Pooh, 'UglyDolls' Coming to Theaters, 'Bloodshot' and 'Joker' Stake Out Release Dates
").
The
UglyDoll
brand of unique plush characters have appeared in books, graphic novels (see "
Review: 'UglyDoll: Goin' Places!' TP
"), apparel, licensed toy mash-ups (see "
'UglyDolls' a la DC
" and "
'Star Trek UglyDolls'
"), and games (see "
'UglyDolls' Invade Game World
").