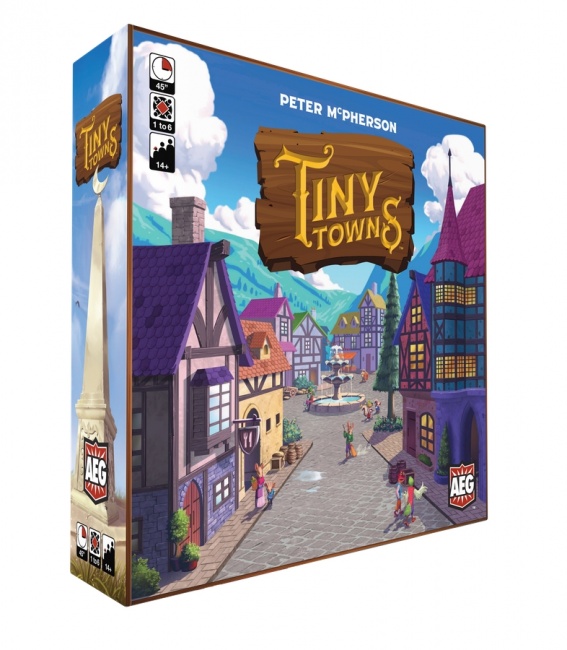 Alderac Entertainment Group will release
Tiny Towns,
a whimsical resource management game, in April.
The peaceful forest folk have created a predator-free zone, and now they wish to build a thriving community based on the advice of their mayor. The area has limited space, and necessary resources are hard to find. The mayor will have to be clever to allocate needed items to the most productive projects.
Each player has a 4x4 playboard grid, where they can assign cubes of various colors (representing various resources) on their turn. The first player will choose a color cube, which all other players must place on their board as well. Each space can only have one cube (and later building), so planning cube arrangement will be important later in the game. The second player (clockwise order) picks a color, and all players must place that cube on their board. Eventually, buildings will be available which will replace a set of corresponding cubes. Those building will be worth victory points at the end of the game. The game continues until a player can no longer place cubes on their board or turn cubes into buildings, then they are out. The other players continue until they reach the same circumstances. Then victory points are added up, and a winner declared.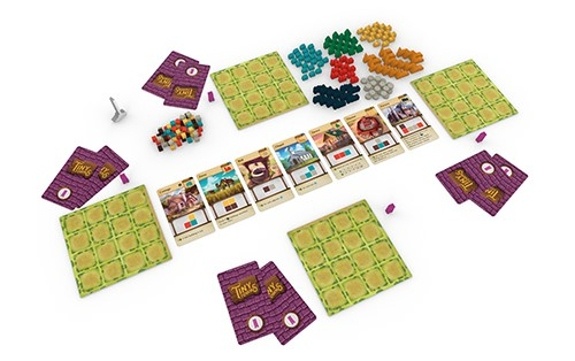 The box includes 6 player boards, 25 building cards, 15 monument cards, 15 resource cards, 1 scorepad, 126 wooden buildings, 1 wooden master builder hammer, 6 wooden monuments, 90 wooden resource cubes, and a rulebook. The game is for 1 – 6 players, ages 14 and up, and plays in 45 minutes. MSRP is
$29.99.
[
On 12/4 AEG corrected the price to $39.99
.] General release is set for April 26, but AEG plans an early pre-release to brick and mortar game stores a few weeks earlier.