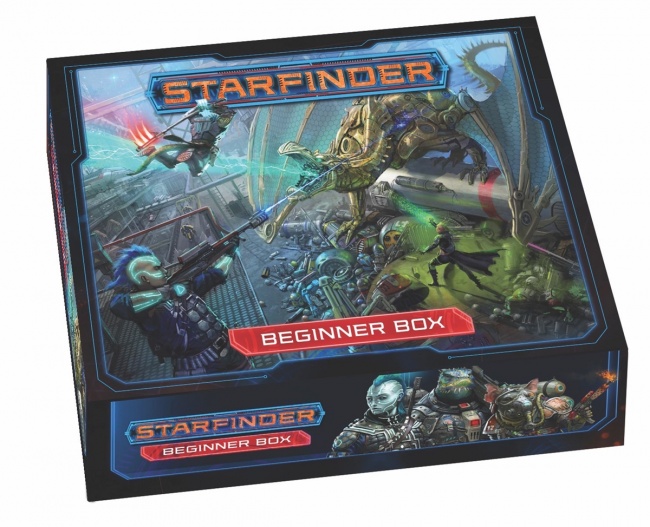 Paizo has shared details about its upcoming
Starfinder Beginner Box
, releasing on April 24.
Announced in August, the Starfinder Beginner Box is an entry-point product for new players of Paizo's science fiction role playing game (see "'Starfinder Beginner Box'"). It features streamlined rules for character creation and information about the Starfinder setting.
The final version of the product will include a 96-page Heroes Handbook with the rules of the game and character creation, along with a solo adventure, and a 96-page Game Master's Guide with a full adventure, rules for aliens, and advice on how to run the game. Also included are a set of seven polyhedral dice, 80 full-color pawns representing heroes and aliens with 24 plastic bases, 6 pre-generated characters, 6 additional blank character sheets, 6 player aid cards, and a double-sided, reusable playmat that players can draw on with any marker.
MSRP for the Starfinder Beginner Box is $39.99.
Paizo released an equipment and weapon guide for Starfinder last summer (see "'Starfinder' Breaks Out the Big Guns").
Starfinder has become a big hit for Paizo, zapping into the #3 spot on ICv2's list of top-sellers this summer (on our PRO Site, see "PRO: Roleplaying Games Market Report and Top Brands Chart – Summer 2018").