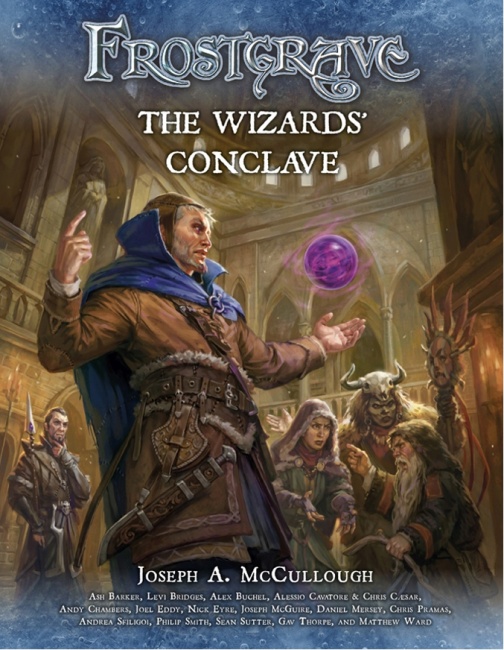 Osprey Games has recruited a team of well-known game designers for its next
Frostgrave
expansion,
The Wizard's Conclave
, releasing on February 21.
The Wizard's Conclave is a 96-page book full of scenarios for the game, offering new challenges and new enemies for the players to confront within the Frozen City. Each scenario was created by a different game designer, with contributions from Alessio Cavatore (Bolt Action), Alex Buchel (Saga), Andy Chambers (Warhammer 40,000), Gav Thorpe (Warhammer Quest), Chris Pramas (Dragon Age RPG), Daniel Mersey (Lion Rampant), Andrea Sfiligoi (Song of Blades and Heroes), and others.
MSRP is $25.00.
Created by Joseph A. McCullough and released in 2015, Frostgrave is a tabletop fantasy miniatures game that pits small bands of adventurers led by magic-wielding wizards against each other as they try to loot the frozen ruins of a long-lost city (see "New Osprey Fantasy and Civil War Skirmish Games"). The game offers players a variety of scenarios featuring different goals and opposing no-player forces that fight against all players.
Osprey recently announced two expansions for its fantasy skirmish game Wildlands that will release in 2019 (see "Martin Wallace's 'Wildlands' Unveils 2019 Expansions").