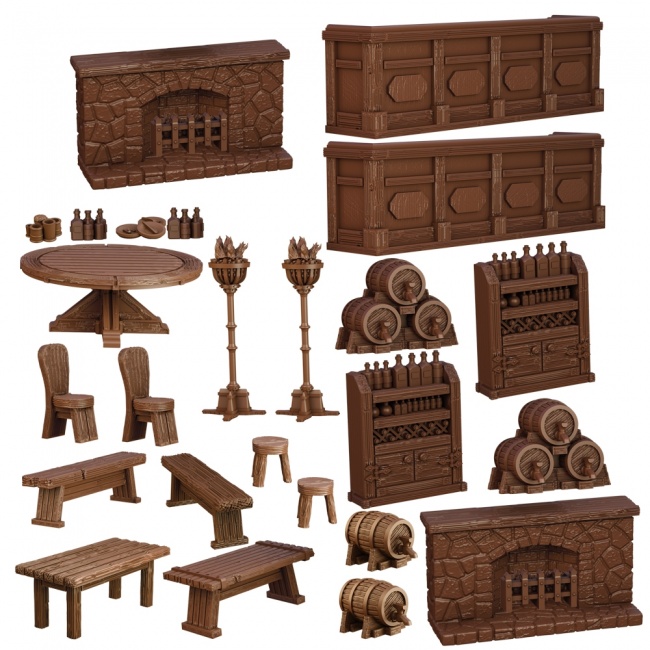 Mantic Games will release a half-dozen new
Terrain Crate
sets in March: the
Abandoned Mine
,
Temple
,
Guard Barracks
,
Tavern
,
Throne Room
, and
Mine Track
.
Like earlier sets in the line, the new Terrain Crate sets feature assembled but unpainted furniture and set pieces suitable for fantasy miniatures games and role playing games. The models are sized for use with 28mm scale miniatures, and are not specifically tied to any game property.
There will be six sets releasing in March:
The Abandoned Mine has 28 pieces, including tracks, mining cards, and mining tools. MSRP is $29.99.
The Temple has 22 pieces depicting pillars, altars, platforms and fountains. MSRP is $29.99.
The Guard Barracks comes with 25 beds, weapon racks, target dummies, tables, and benches. MSRP is $29.99.
The Tavern set offers 29 pieces, featuring a multi-part bar, fireplace, bottle racks, kegs, chairs, and a table. MSRP $29.99.
The Throne Room includes a pair of regal thrones, a carpet, a tapestry, and two framed artworks, 6 pieces in total. MSRP is $9.99.
The Mine Track has a half-dozen track pieces, including a broken track end and a barricaded track, useable on their own or combined with the Abandoned Mine set. MSRP is $9.99.
Click on the gallery below for images of the models in the new sets.
This wave of Terrain Crate releases will come about a month after the larger Adventurer's Crate set (see "'Terrain Crate: Adventurer's Crate'").