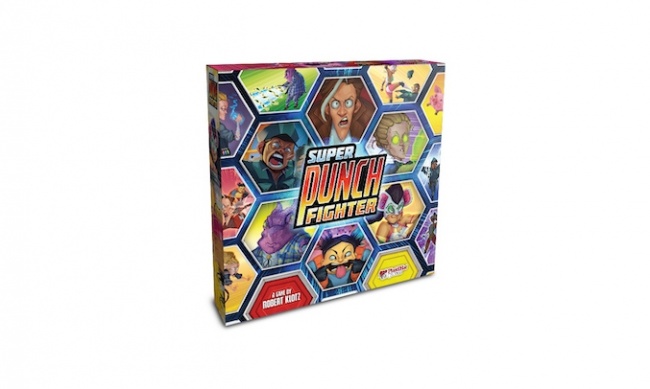 This summer, Plaid Hat Games will release
Super Punch Fighter
, a board game that recreates the arcade "fighting games" of old on the tabletop.
In Super Punch Fighter, the players control a video game fighter, maneuvering around the arena and attacking each other in an attempt to knock out the competition. Pulling directly from its inspiration, the game uses "button cards" that players activate using "thumb tokens" in order to play cards that represent the maneuvers their character can take. Cards can even be chained together as "combos" for more powerful moves. But the buttons don't always reset instantly: a player can "mash" as many buttons as they want each round, but only four buttons will reset for the next round.
In the normal play mode, each player controls one character and the winner is the first to earn 9 stars by damaging opponents, knocking them off the board, or completing in-game "achievements." There is also a cooperative mode, where one or two players try to defend the board from wave after wave of minions.

Super Punch Fighter
was designed by Robert Klotz and features artwork by Tyler Johnson. The game comes with 1 arena board, 6 fighter dials, 10 standees, 154 cards, and 46 tokens. It is intended for 1 to 6 players, ages 14 and up, and takes a little more than half an hour to play. MSRP is $39.95.
Plaid Hat will soon release the first expansion for Gen 7, its latest "Crossroads" game (see "'Gen 7' Expansion Allows Up to Six Players").