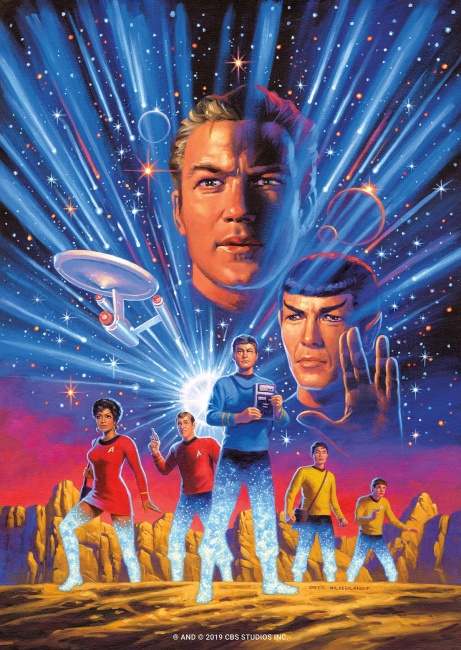 A new series will cover the last year of the
U.S.S. Enterprise
's five-year mission to explore strange new worlds. Writers Jackson Lanzing and Collin Kelly and artist Stephen Thompson will create the opening arc for
Star Trek: Year Five
, a monthly series that kicks off in April.
Renowned fantasy artist Greg Hildebrandt will paint the crew of the starship Enterprise for the first time ever as the cover artist for the debut issue. The ongoing series will be developed by a writer's room that includes Lanzing, Kelly, Brandon Easton, Jody Houser, and Jim McCann.
The series follows Captain James T. Kirk's last year in command of the Enterprise, as his actions play a role in the outbreak of war in the Alpha Quadrant and his relationship with Spock becomes strained. Other familiar original series characters, such as Bones, Uhura, Scotty, Chekov, and Sulu, will also make an appearance.
Decades after its debut, Star Trek remains a compelling property. In addition to inspiring comics, games, merchandise, and films, CBS continues to develop Star Trek TV series. The second season of Star Trek: Discovery debuts on CBS All Access this month, with animated series (see "More 'Star Trek") and a show centered on The Next Generation's Jean-Luc Picard in the works (see "Patrick Stewart Returns to 'Star Trek'"). IDW has been publishing Star Trek comics since early 2007 (see "IDW Boldly Goes").