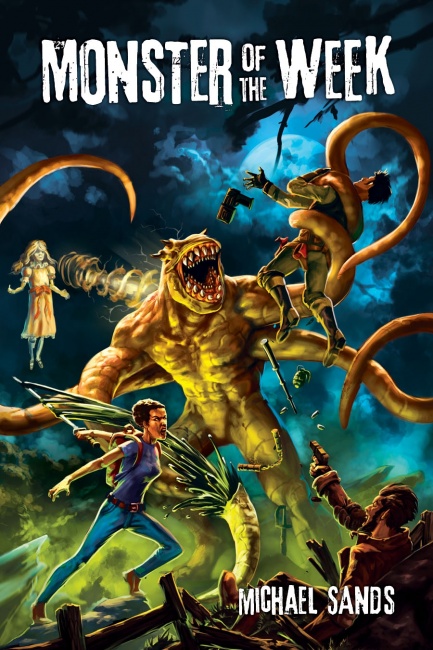 Sales of the little-known Evil Hat RPG
Monster of the Week
have surged as a campaign runs on the popular
The Adventure Zone
podcast, Evil Hat President Fred Hicks has confirmed to ICv2. We got interested when we saw Hicks' Tweets on Friday (embedded below) in which he revealed that
Monster of the Week
had sold 2,100 units between its launch in early 2015 through the end of 2017, but had sold 6,900 units in the roughly one-year period since. He attributes the jump in sales to the "Amnesty" campaign featuring
Monster of the Week,
which was first featured in
The Adventure Zone
podcast posted January 4, 2018.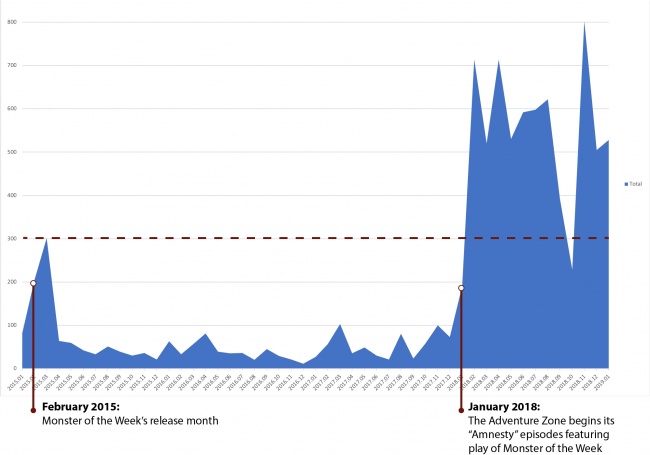 "Interest in that same month surged to a level similar to our initial product release spike; in practically every month since, sustained interest in the game has vastly outstripped what we were able to achieve ourselves," Hicks told us. "Only one month, October 2018, dipped below the highest interest level we saw immediately following release in 2015, and was promptly followed by November 2018 where we saw our strongest sales-month ever for the product (possibly due to retailers stocking up for the holiday gifting season)."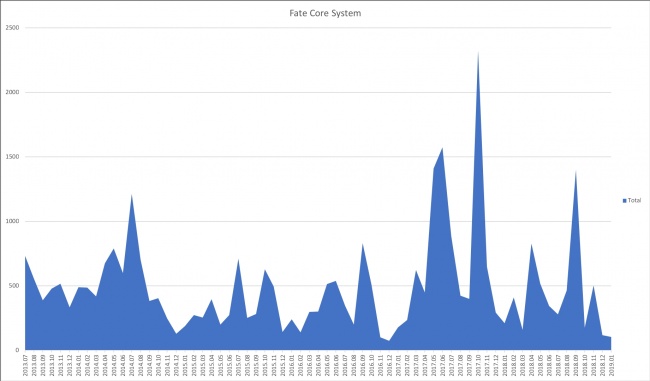 Hicks compared the impact to what the company had experienced when its
Fate Core System
was featured on Geek & Sundry's
Tabletop
in May 2017. While the company had achieved a big sales surge from
Tabletop
, the impact was shorter than it was for
The Adventure Zone
.
"I suspect two factors go into that," Hicks explained. "First being, Fate Core was much better known by the time it got its 'dynamite moment,' whereas Monster of the Week was considerably more obscure, so there was a larger potential untapped audience for the latter. Second, and more significant in my opinion, is that the Fate Core episode of Tabletop was a single episode of Tabletop, while Monster of the Week has been featured in the ongoing multi-episode "Amnesty" campaign that The Adventure Zone is running: they are up to episode #21 of Amnesty as of the end of January 2018. In this regard, exposure on The Adventure Zone for Monster of the Week is probably more analogous to Critical Role for Dungeons & Dragons.
The Tabletop Bump had been extensively analyzed back in the day, with Alliance Game Distributors sharing a study that showed a 79% sales bump a year after the episode was posted (see "The Tabletop Bump"). The scale of The Adventure Zone bump on Monster of the Week, depending on how you look at it, is probably close to 10X a year later.
The influence of The Adventure Zone podcast on sales is no surprise on the comics side of the store; The Adventure Zone: Here There Be Gerblins graphic novel debuted at the top of the NPD BookScan graphic novel charts and has continued to chart in the months since (see "July 2018 NPD BookScan – Top 20 Adult Graphic Novels"). While not selling as well in comics stores, it racked up over 4000 copies in sales through Diamond in 2018 (see "Top 1000 Graphic Novels – 2018").
Click Gallery below for full-size graphs!