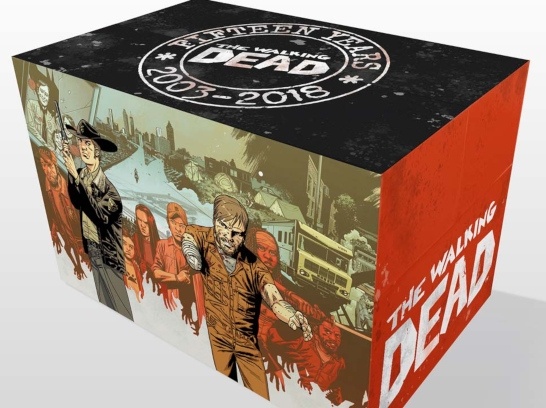 Even though ratings on
The Walking Dead
were at a low for the series last when the new season debuted last fall (see "'
Walking Dead' Hits Ratings Low
"), the series still climbed to the top of the Author chart for graphic novels. Image Comics owned half of the Top 10, all series that have previously appeared on the chart.
Berlin
, the long-running story of Weimar-era German by Jason Lutes finally released in a single volume, was a notable new entrant on the chart.
This chart of the ICv2 "Top 10 Author Graphic Novel Franchises" reflects sales in all trade channels for Fall 2018, based on analysis of sales through comic stores and the book channel, including online.
Top 10 Author GN Franchises – Fall 2018

Rank

Title

Publisher

1

The Walking Dead

Image Comics

2

Saga

Image Comics

3

Hellboy and the Mignolaverse

Dark Horse Comics

4

The Adventure Zone

First Second Books

5

Monstress

Image Comics

6

Paper Girls

Image Comics

7

Scott Pilgrim

Oni Press

8

March

Top Shelf Productions

9

The Wicked + The Divine

Image Comics

10

Berlin

Drawn & Quarterly

Note: Includes all channels
For more graphic novel bestseller charts, see:
Top 10 Author Franchises – Fall 2018
Top 10 Kids/YA Graphic Novel Franchises – Fall 2018
Top 10 Manga Franchises – Fall 2018

This chart originally appeared in Internal Correspondence #95. For information on that issue, see "ICv2 Releases 'Internal Correspondence' #95."