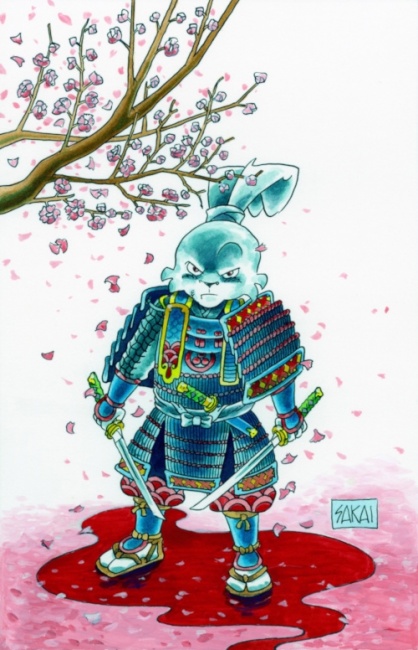 IDW Publishing has announced that it will be the new publisher for Stan Sakai's creator-owned comic
Usagi Yojimbo,
with plans for full color monthly comics as well as newly colored graphic novels collecting the entire series to date.
The new monthly series will launch in June with
Usagi Yojimbo
#1, the first issue in a three-part story in which Usagi enters the world of bunraku, Japanese puppetry, and gets more than he bargained for. Sakai says that this series will bring back "a long-awaited fan favorite character" as well as yokai, Japanese spirits. The first issue will feature a main cover by Sakai and variant covers by Daniel Warren Johnson (
Murder Falcon
), Kevin Eastman (
Teenage Mutant Ninja Turtles
), and Walt Simonson (
Ragnarök, The Mighty Thor
). According to
The New York Times,
Tom Luth will be the colorist for the first arc.
Set in 17th-century Japan,
Usagi Yojimbo
follows the adventures of Miyamoto Usagi, a rabbit ronin (masterless samurai). Sakai based Usagi loosely on the famous swordsman Miyamoto Musashi, and he often includes other aspects of Japanese art and culture in the stories. Miyamoto Usagi first appeared in 1984 in the anthology
Albedo Anthropomorphics,
so this year marks the character's 35th anniversary. The
Usagi Yojimbo
series was launched in 1987. The series was originally published by Fantagraphics Books, then moved to Mirage Comics, and most recently to Dark Horse Comics. It has been primarily in black and white since its inception, although there have been some color issues.