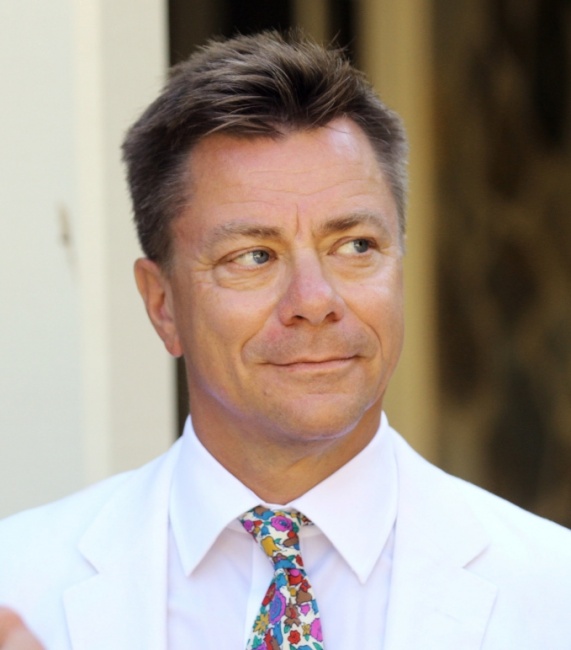 Cabinet Entertainment, Fredrik Malmberg's production and IP management company, is launching a new games division under its Perilous Worlds brand, known until now as a fantasy and science fiction book publisher, and will release games based on
Conan the Barbarian
and
Mutant Chronicles
this year.
Perilous Worlds games will be based on properties owned by Cabinet, which include
Conan the Barbarian
,
Kull
,
Solomon Kane
, and the game properties
Mutant Year Zero
,
Mutant Chronicles
, and
Kult
. Malmberg was reunited with the properties when Cabinet acquired Paradox Entertainment, an earlier Malmberg company, in 2015 (see "
Conan Ownership Changes Hands
").
The first three games are planned for Gen Con 2019 release:
Conan: Tower of the Elephant
, a board game designed by Room 17.
Conan: Serpent's Bluff
, a card game designed by Monster Fight Club (see "
Kovaleski Forms Monster Fight Club
"). Monster Fight Club founder John Kovaleski shared the concept at Toy Fair. "In one of the comics (and I can't go much deeper than that), Conan is playing a game," he explained. "We are working on something to go along with that."
Mutant Chronicles: Siege of the Citadel,
a Richard Borg miniatures board game originally released in the 90s by Target Games, a Malmberg company, and recently updated for a $600,000 Kickstarter by Modiphius, but never released to the trade.
Perilous Worlds games will be released to the trade in the U.S. via Alliance Game Distributors, Diamond Comic Distributors, and other distributors, which Cabinet will begin contacting at GAMA Trade Show, Malmberg told ICv2.
Asked about in-store support for retailers, Malmberg said Cabinet was working with John Kovaleski and Monster Fight Club as advisors on how to approach retail, distribution, and production.
Conan
, Cabinet's most well-known property, is on a roll right now in a couple of foundational categories. After the license returned to Marvel after a long stint at Dark Horse Comics, Marvel's new
Conan the Barbarian
#1, released in January, was the #3 comic in comic stores in January (see "
Top 500 Comics – January 2019
").
And
Conan Exiles,
a June 2018 videogame by Heroic Signatures, a co-venture between Cabinet and longtime licensee Funcom, was the bestselling
Conan
videogame ever, Malmberg told us, noting that the audience was primarily "completely fresh to Conan and the universe of Robert E. Howard. Then they start looking for other things."
In a statement released with the announcement of the new initiative, Malmberg explained how that leads to tabletop games. "In the nineties we spoke about the convergence of industries, but nobody would have dreamt about how massive that would be, or how long it would take to get there," he said. "Popular characters and worlds are enjoyed as entertainment, but the uberfans want more, be it reading a book or comic, but more so interacting in games. Videogames are of course great. But interacting with humans in real time, live, playing boardgames or tabletop RPGs, is something special. We want to be there, reinforcing that importance, and make sure our IPs grow alongside our fans."
We talked to Cabinet Entertainment CEO Malmberg about the launch.
ICv2: Why do you think this is the right time to launch tabletop game company featuring your properties?
Fredrik Malmberg: It's in my background, of course, I grew up playing tabletop games. That was my first entry point into the business, now many years ago. Our IP, in particular the gaming IP that we own (
Mutant Chronicles
,
Mutant Year Zero
), but also
Conan the Barbarian
has been very strong historically in tabletop games.
We've worked with great partners, like Monolith, Mythic Games, Shinobi 7, Modiphius, and others. We felt that to really support our characters and worlds through the retail trade that we also should be visible ourselves in addition to the partnerships we have.
The pure reason for that is, of course, the resurgence of tabletop gaming in the recent years. Also, we have seen enormous success with our characters on the platform. It was a natural thing for us to take that step, especially since last year we decided to go into fiction publishing to support these characters and worlds through the Perilous Worlds book division.
You mentioned your licensees. What's going to happen to that side of the business? Are you going to bring those games in house or are you going to continue with them? How's that going to be handled?
Fredrik: We're going to continue. We have so many. We have over 800 different IPs. We can't really even fathom to do that all by ourselves. Also, I think the market is so fragmented that you have various companies and partners that we work with that are much better than we ever want to be in certain areas.
Modiphius, for instance, has been a phenomenal partner on roleplaying games.
Monolith has been doing fantastic work for us on big miniature Kickstarter games. We don't intend to go into Kickstarter, that's not our intention. We definitely don't want to go beyond $100 retail. As such, we think that there are certain products and fans that will still want to support that through Kickstarter. Then, of course, that could be through licensing opportunities, some of them.
We don't really foresee any change with the partnerships we have today going forward, but we will definitely bring more games out based on the characters. We have to also realize that we're talking maybe 5 to 10 games per year. It's not a massive amount of new games coming out from us.
What's going on in the overall environment, especially for your lead character, Conan?
I think that of course there is an upsurge in all things fantasy and science fiction pretty much thanks to
Game of Thrones
. I think this is cyclical. George R. R. Martin has been crediting both Tolkien and Howard as inspirations for his own works.
What we grew up with (we were the nerds) is now mainstream. I think Conan is still very fresh. Robert E. Howard is one of the pulp authors that actually created a massive amount of stories. They're also tied together in his shared universe, pretty much by definition that he wrote them that way.
His characters are very archetypical, they're very strong. He writes characters like very few authors do. I think that Conan and all the Howard characters are just basically coming back because the whole genre that we're involved with has come back in such a strong way.
On the handling of Conan, there was some reaction to the Monolith game that began with a blog post in which the writer took the game's designers to task for not addressing what she described as Conan author Robert E. Howard's "sexist and racist depictions of women and minority characters" (see "Asmodee Ex-Employee Attacks 'Conan: The Board Game'"). How are you going to handle those issues in the games you're going to do?
I will dispel that right away. First of all, several of his characters are female. They are in every way as powerful as the male characters.
There is a phenomenal character called Sword Woman, for instance, where Robert E. Howard in the '30s wrote in first person about Dark Agnes, who is basically the protector of women and the oppressed in 16th century France.
I don't recognize that opinion at all. In fact, Margaret Atwood, who is an eminent feminist author, has credited Robert E. Howard's Conan as a main source of inspiration for her writing. I just don't recognize that, the criticism, at all.
Is there anything else you want to get out there to the trade, the distributors and retailers, about your new game division and what's coming?
What I want to get out there is that we're not doing this to add to the glut of product. We are aware that there's a little bit of product fatigue in retail right now. Of course, a buyer is always a buyer, but for us, it's very much about supporting retail trade.
If a comic book store or game store is investing in the
Conan
comics from Marvel or the video games or in toys and apparel or whatever it is from all of our partners, we want to make sure that gaming is a staple in that whole branding of our IP.
That's partly because I have a gaming background myself and I really love games and also because here in Hollywood, we notice that it really becomes a mass culture. We want to support that.
We will be very careful. We're not going to do another 10 SKUs per month just for the sake of it. These games that we are creating are really meant to become staples and lines.
Of course, we're excited to be doing this. We hope to see all the retailers and the distributors at GAMA and get a direct link to what they are looking to do. We're excited. It's just fun times. We love games. That's the message right there.