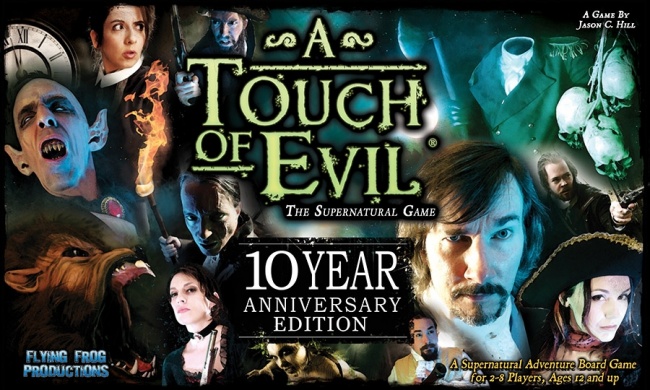 Flying Frog Productions announced some of its new releases for the year at the GAMA Trade Show, including the
A Touch of Evil 10th Anniversary Edition
, two
Fortune and Glory
expansions, and a pair of deluxe expansions for
Shadows of Brimstone
, plus a series of smaller
Shadows of Brimstone
expansions
.
A Touch of Evil will release the 10th Anniversary Edition in October. This limited-run version of the game will feature special plastic pieces that replace some of the game markers, plastic busts for the Town Elders, and plastic terrain pieces. It includes the original heroes and villains from the base game plus a new Epic Villain version of the Spectral Horseman, with expanded minions and new cards. An updated rulebook will round out the set, which will be packaged in a larger-sized box for $99.95 MSRP.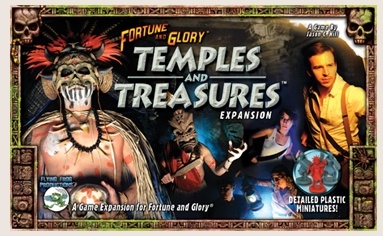 The pulp-action game
Fortune and Glory
will get two new expansions, both releasing in the fall:
Temples and Treasures offers new rules and cards that focus on lost treasures hidden away in forgotten temples protected by tribal warriors, such as the new Witch Doctor and Amazon Queen villains. MSRP is $39.95.
Lair of the Spider Queen takes the action to the Far East with Hong Kong gangsters and the supernatural Cult of the Spider Queen. This set also features a sailing ship called The Black Widow. MSRP is $39.95.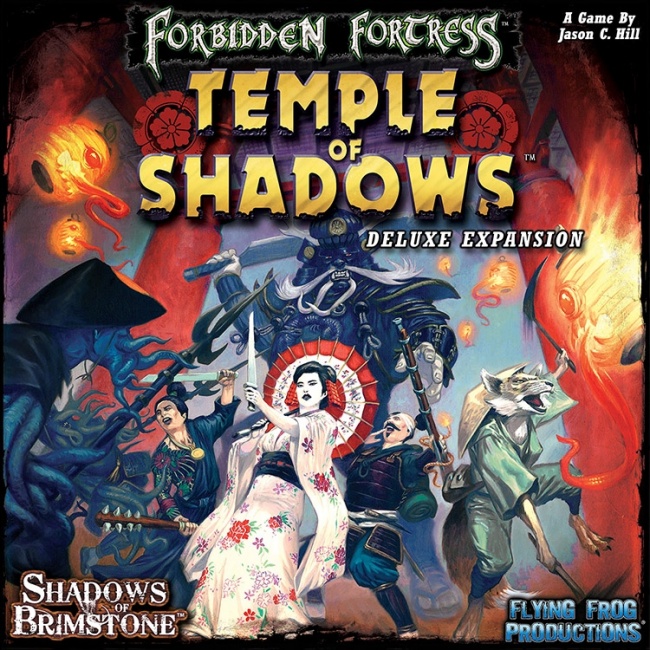 In June, the first of two
Shadows of Brimstone
Deluxe Expansions
will release:
Temple of Shadows
. Specifically designed to work with the
Forbidden Fortress Core Set
(see "
'Shadows of Brimstone' Gets New Core Set
"), this expansion adds new map tiles and new cards to the game, along with new missions, four new Heroes, and four new enemies, represented by 22 miniatures, including the large Fallen Shogun boss. MSRP is $79.95.
The Forest of the Dead expansion will follow in September, featuring an all-new OtherWorld ruled by the undead. This expansion has 19 new map tiles, new cards, new missions, and 15 miniatures representing four new classes of enemies. MSRP is $79.95.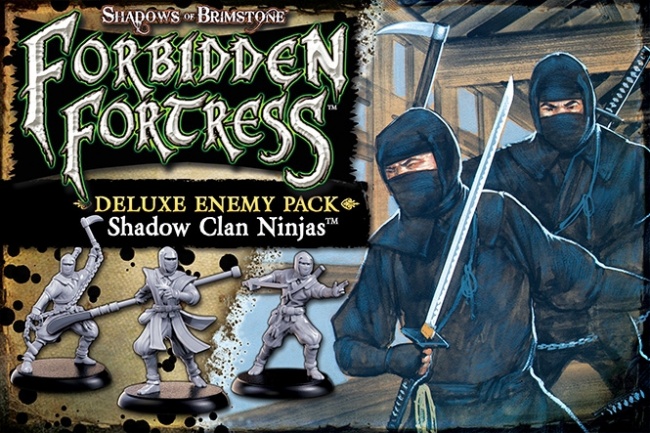 In addition, Flying Frog will release ten smaller
Enemy Sets
for
Shadows of Brimstone
:
Shadow Clan Ninja Deluxe Enemy Pack, releasing in July, MSRP $39.95.
Jorogumo Spider Queen XL Enemy Pack, July, MSRP $34.95.
The Ancient One XXL Deluxe Enemy Pack, August, MSRP $44.95.
Flesh Mites Enemy Pack, August, MSRP $19.95.
Wasteland Terralisk XL Enemy Pack, September, MSRP $29.95.
Akaname Tongue Demon Enemy Pack, October, MSRP $19.95.
Dark Stone Scorpions XL Enemy Pack, October, MSRP $44.95.
Magma Giant XL Enemy Pack, November, MSRP $34.95.
Thunder Warriors Enemy Pack, December, MSRP $24.95.
Takobake Riflemen Enemy Pack, December, MSRP $19.95.
Click on the gallery below for cover images of the new titles.