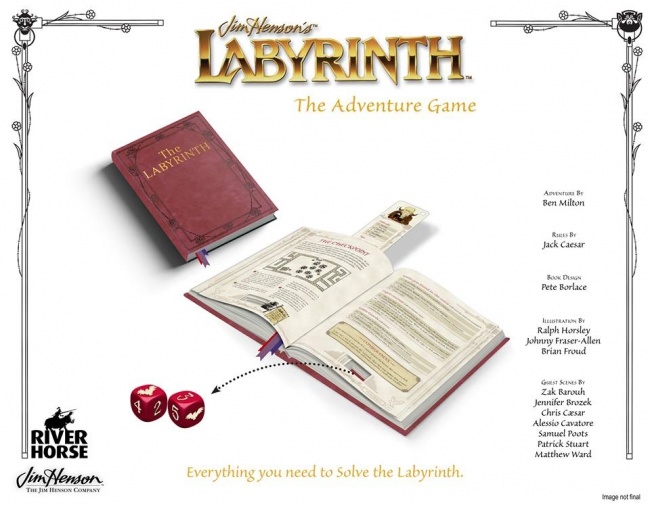 River Horse Games will release
Jim Henson's Labyrinth: The Adventure Game,
a roleplaying-type adventure game contained in a single book.
Players are tasked with solving the Labyrinth within 13 hours, and if they don't, they lose. The book includes over 100 interlinking scenes with challenges the players must overcome before rolling the die and moving to the next scene. The simple rules set were written by Jack Caesar, and the adventure is written by Ben Milton and several guest scene authors. A normal game will see players encountering 1/3 of the scenes, creating a new Labyrinth map every game. There are rules for creating characters and adventuring in the Labyrinth, for advanced players who wish to adapt the setting to their favorite RPG rules system.
The book is illustrated by Ralph Horsley, Johnny Fraser-Allen and Brian Froud.
The hardcover book will include approximately 280 pages, three colored ribbon markers for tracking progress, two custom dice which fit within the book, and a bookmark with rules reference and tips. MSRP is $45.00. Release is planned for Q3.
River Horse Games also makes Jim Henson's Labyrinth: The Board Game, and will be releasing another expansion in May (see "'Labyrinth' 'Fireys!' Expansion Revealed").