If you want to sell comics to kids, go to where the kids are. An elementary school is a good start.
And Matt Corrigan has a blueprint for you. Corrigan is a kindergarten teacher at Lemay Street Elementary in Los Angeles, and through his Comic Book Club, he's been building a school library, making some retailers very happy, and educating kids while showing them a great time all at the same time.
Corrigan moved from a previous job in movie special effects into education and promptly founded the Comic Book Club at Lemay Elementary in the 2017-2018 school year. Now in its second year, the club, which meets for one hour after school once a week, is full to bursting with enthusiastic 4th and 5th graders.
"I started it because I'm a nerd and I like comic books and I love to talk about comic books, but I also know that comics are a great way to get kids through the reading door," Corrigan says. "It took off way faster and got way bigger than I ever thought it would. I wasn't ready for it!"
"Way faster" has had benefits all over the place for all parties involved, and it started with one simple conversation.
"A parent at the school said, 'Hey, I have some connection to the comic book industry, and I want to see if that can benefit the school,'" Corrigan says. "So we started to conceptualize this fundraiser."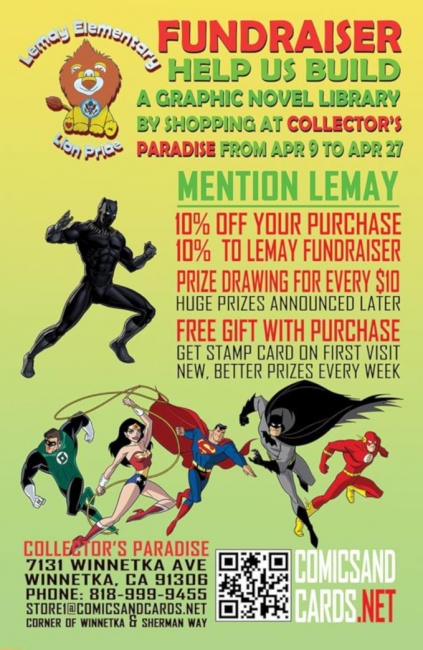 Corrigan got linked up with the Earth-2 Comics and Collector's Paradise retail chains, and put together a program in which the school would point kids to the stores with special offers. When the kids mentioned Lemay Elementary or showed a membership card, they'd get 10% off the purchase, and an additional 10% would bounce back to the school. That's where things got crazy—in a very good way.
In year one, the principal was already so impressed with results that he was able to turn the fundraising money back to Corrigan and have him return to the store so that he could establish a comic book and graphic novel section in the school library.
"That's what my ultimate goal was, but I thought that was a two- or three-year plan," Corrigan says. "But because the fundraiser went so well and because the students were so ridiculously interested from Day One, the principal saw it. He said, 'They're reading. They're loving this. Let's give them what they want. Let's keep encouraging it.'"
Corrigan says that today, "Those books are among the most popular in our library. You almost never see them on the shelves. They're always checked out."
Demand has led to a greater supply in the library. The school is now matching the store fundraising funds, allowing Corrigan to purchase even more books, yes, bought at local stores.
Stores have helped by lining up creator guests who have spoken to the club, and to larger school assemblies. Stephane Roux (
Birds of Prey
), Tony Fleecs (
My Little Pony
), and Lea Hernandez (
Teen Titans Go
) have all put in appearances. That's great, as the club is now very hands-on.
"Originally, it was going to be like a book club, but for comics," Corrigan says. "But the kids went through reading the books so fast, I kind of had to re-imagine it. Now it's kind of a pop-culture discussion and activity club. We just finished a project where the kids selected a page from one of the books and reimagined the page without changing the story. They could change the panel count, the panel shapes and sizes, the camera angles and whatnot, but had to keep the action and the dialogue. So they had fun learning how to retell the story their own way."
Corrigan says the guest artists have been a great help in sparking imagination, and in providing an inspiration.
"It's great because we can get people actually talking about composition, about camera angle, and they can then apply the knowledge that an actual professional artist has imparted to them," he says. "Kids love that connection. When they can see, 'You are a person standing in front of me and you created this book sitting here on this table'… that's a powerful force. They can see, 'Hey, you did something, and a real publisher like Image Comics or BOOM! made this into a comic, so I can do that, too.'"
If a retailer wants to get something started and get involved, Corrigan suggests they simply take that first step.
"Just go to the school," he says. "Cold-call. Show up at the door. Whatever works for you. Just say, 'I'm a comic book retailer, and I want to work with you to get comics into kids' hands.' I think if you go to a school and the school lets you do a pitch, you'll immediately see interest there."
Corrigan's reasoning is simple.
"Me as an educator, and I think this would go for anyone at any school…
you're promoting reading
," he says. "That's the simplest and best thing right there. It's one of those things where literally everyone's a winner. Kids love comics and we all know how hot a commodity they are right now. You as a retailer benefit because you're selling more books. Schools can raise funds, build a library. Everyone gets something out of this."
Corrigan has seen it work, and is surprised at how deep it can go.
"This year I told kids, 'Hey, there's this movie about Captain Marvel, but that's the third or fourth version of Captain Marvel,'" he says. "They couldn't believe it was a different woman before, or that the original Captain Marvel was a man, but they're all buying books now reading those stories. You just have to open the door. You just have to put that first book in their hands. I know I've created new comic book readers with these kids, real go-every-month, buy-a-few-issues readers. And those kids will probably be comic book readers for life. As a nerd and as a teacher… that's a giant victory for me."
Click Gallery below for pics from the comics club at Lemay Elementary!