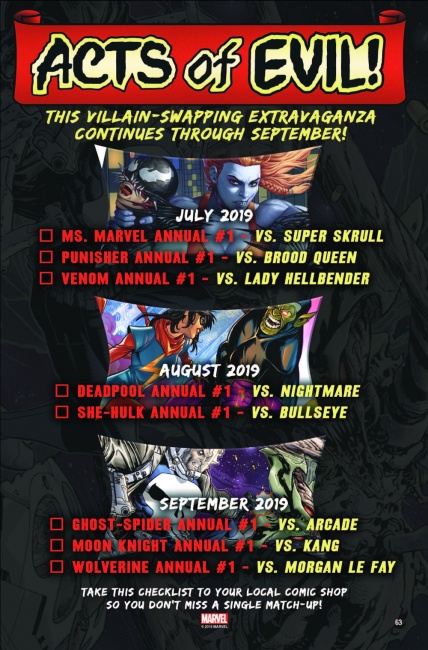 Marvel Comics has unveiled more forthcoming annuals that will be part of the summer
Acts of Evil
encounters line in August and September.
Acts of Evil features Marvel heroes facing off against enemies they have never encountered before. Marvel also released a checklist that includes all titles in the series.
August titles include:
Deadpool Annual #1: Deadpool Vs. Nightmare
Written by Dana Schwartz
Art by Reilly Brown
Cover by Aaron Kuder
She-Hulk Annual #1: She-Hulk Vs. Bullseye
Written by Alexandra Petri
Art by Andy Macdonald
Cover by Mirka Andolfo
September titles include:
Ghost Spider Annual #1: Ghost-Spider Vs. Arcade
Written by Vita Ayala
Art by Pere Perez
Moon Knight Annual #1: Moon Knight Vs. Kang
Written by Cullen Bunn
Art by Ibrahim Moustafa
Wolverine Annual #1: Wolverine Vs. Morgan Le Fay
Written by Jody Houser
Art by TBD
The first three annuals (Punisher, Venom, Ms. Marvel) will arrive in July (see "Marvel Kicks Off 'Acts of Evil' With Three Annuals").
(See two covers and checklist in gallery below.)