There has been a lot of news regarding geek TV projects recently, and we round it up here.
Netflix's prequel series to The Dark Crystal, Age of Resistance, has set a premiere date, Entertainment Weekly reported. The 10-episode series will launch on August 30. The adventure show is set before Jim Henson and Frank Oz's 1982 practical effects puppet film and boasts an impressive voice-cast (see "'Dark Crystal' Photos and Star Studded Cast").
Disney+ is adding some Marvel Cinematic Universe actors to its upcoming Falcon & Winter Soldier streaming series, The Hollywood Reporter reported. The actors who played Zemo in Captain America: Civil War (Daniel Bruhl) and Sharon Carter, grand niece of Peggy Carter in Winter Soldier and Civil War (Emily VanCamp) will reprise their roles for the project. They will join stars Anthony Mackie (Falcon) and Sebastian Stan (Winter Soldier) (see "Falcon and Winter Soldier Series"). Kari Skogland, who has worked on Hulu's The Handmaid's Tale, will direct the series.
Game of Thrones went out on a ratings high, Variety reported. Across HBO, HBO Go, and HBO Now, the final episode drew 19.3 million viewers, 13.6 million of which tuned in to the 9 PM broadcast. This bested the previous record (13.4 million) set by the Season 4 premiere of The Sopranos in 2002.
Amazon's The Tick will not have a third season, series creator Ben Edlund announced on Twitter. "I'm sorry to say Amazon has chosen not to proceed with @TheTickTV I'm not sorry to say I love this show, its cast, its story, and its message. Destiny demands that my compatriots and I now seek a new home for this series." This most recent version of the comic book hero saw Peter Serefinowicz portraying the nigh-invulnerable protagonist.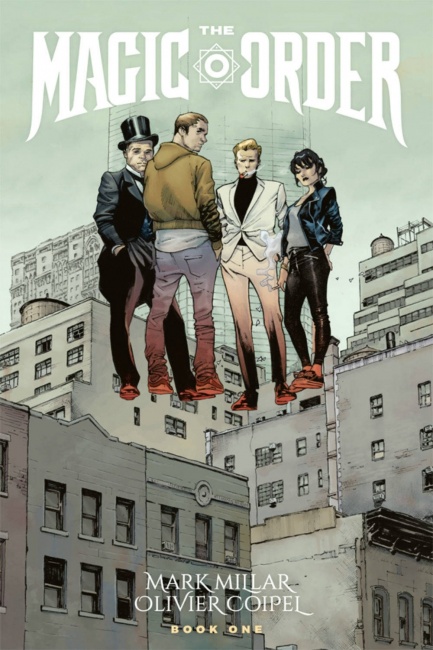 Netflix has ordered Mark Millar's
The Magic Order
to series,
Deadline
reports, and has added James Wan (
Aquaman
) and Lindsey Beer (
Chaos Walking
) as executive producers. Beer will be writer/showrunner, and Wan will direct the first episode. The series is based on Millar's recent comic miniseries (see "
Mark Millar Brings 'Order' to Netflix
").
CW is not renewing its streaming deal with Netflix, Deadline reports, opting instead to shop its upcoming network shows individually. The first output deal between Netflix and CW's parent companies CBS and Warner Bros. has been in place since 2011, being renewed (with modifications) in 2016. But the three upcoming CW series: Batwoman, Nancy Drew, and Riverdale spinoff Katy Keene, are all being shopped around for individual streaming deals by their studios. Deadline also reports that WBTV's Batwoman is earmarked on the upcoming WarnerMedia streaming platform.