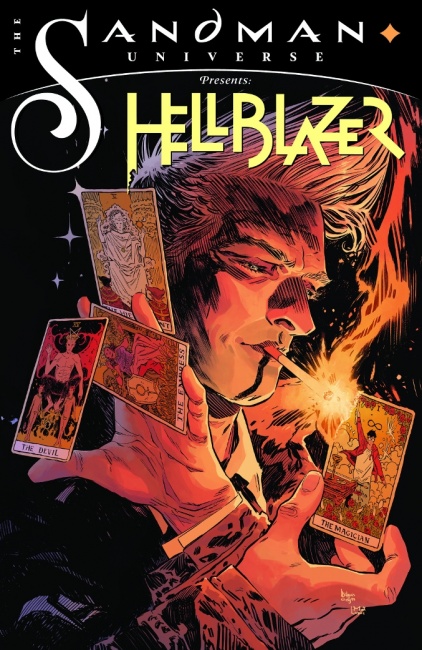 John Constantine will be introduced to DC's Sandman Universe this fall via a one-shot, a new ongoing title, and related story arcs in other Sandman Universe titles, DC announced today
.
The Sandman Universe Presents Hellblazer
#1, with story by Simon Spurrier and art by Marcio Takara, will take off from a moment in Neil Gaiman's
The Books of Magic
miniseries, in which Constantine is haggard, bloody, and dying with a young Tim Hunter standing above him. Constantine reemerges years later with memories intact and a young Tim Hunter the new young magician in the world.
The Sandman Universe Presents Hellblazer
#1 will street October 30.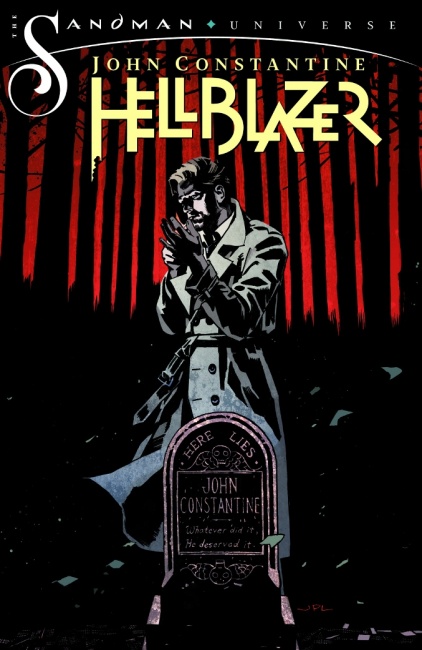 John Constantin, Hellblazer,
the new ongoing series written by Spurrier with art by Aaron Campbell will launch November 27.
New story arcs will also kick off in the four ongoing Sandman Universe titles in November.
The arc in
The Dreaming,
written by Spurrier with art by Bilquis Evely, features the sentient algorithm Wan in control of the kingdom of Dream, with Abel, Matthew the Raven, and Dora involved in searches for the truth.
House of Whispers
, by Nalo Hopkinson, Dan Watters and Dominike "Domo" Stanton, Erzulie and her allies Papa Midnite and Shakpana, face the Corinthian, a rival for Erzulie's place in a House in the Dreaming.
John Constantine is the first dinner guest in Lucifer's new home in the English countryside in
Lucifer,
by Watters, Max Fiumara, and Sebastian Fiumara.
Tim Hunter and Constantine will both appear in
Books of Magic
, by Kat Howard and Tom Fowler, with Constantine knocking on Hunter's door, determined to kill him.
Those four Sandman Universe titles, overseen by Neil Gaiman, were launched last fall (see "
'The Sandman' Returns to Vertigo
"). Of this new phase, Gaiman said, "Year One was just the start. Now you get to inhabit the worlds, books, and houses we built for you. I was thrilled when I was told that John Constantine—the original, demon-haunted one who first showed up in
Swamp Thing
's "American Gothic" story—is coming back to his murky and dangerous roots."