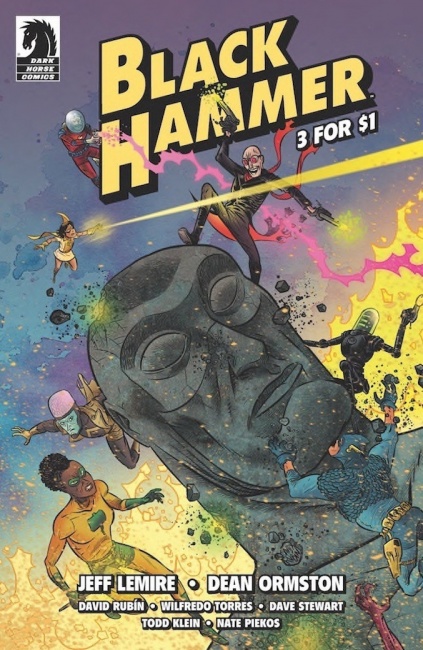 Dark Horse Comics will continue to expand the universe of the superhero series
Black Hammer
and invite new readers in with two new comics debuting later this year.
The 72-page
Black Hammer 3 for $1,
due out November 6, collects the first issue each of three different stories: the original
Black Hammer
and the spinoffs
Sherlock Frankenstein
and
Quantum Age.
All three are written by Jeff Lemire, with art by Dean Ormston, David Rubín, and Wilfredo Torres, respectively. The discount-priced comic is designed to help new readers get oriented to the world of
Black Hammer
.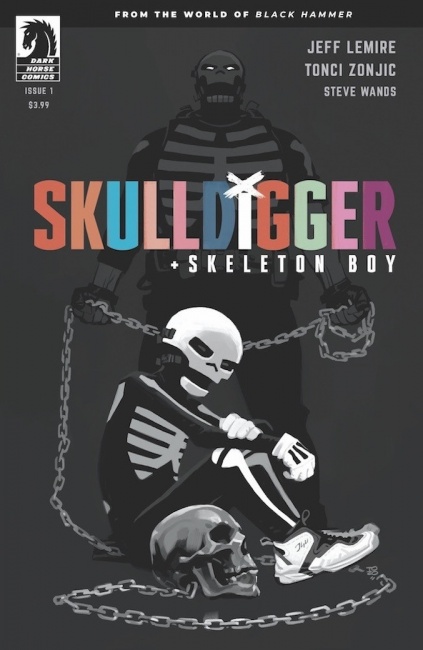 And for those who are already there, a new series will introduce a new character to the franchise.
Skulldigger + Skeleton Boy
#1, scheduled for December 11, kicks off a 12-issue series starring the vigilante Skulldigger and his ward, Skeleton Boy. The pair are out to save the soul of crime-ridden Spiral City after the villain Grimjim escapes from prison. This new series is written by Lemire with art by
Lobster Johnson
artist Tonci Zonjic and lettering by Steve Wands.
Black Hammer
debuted in 2016 and won the Eisner for Best New Series in 2017. Letterer Todd Klein also won Best Lettering awards in 2017 and 2019. The original series ran for 13 issues (plus a Giant-Sized Annual), and since then Lemire, who created
Black Hammer,
has been expanding the world of the series with miniseries and one-shots (see "
Jeff Lemire's 'Black Hammer' Spawns Spin-Offs'
") and also produced a guide,
The Black Hammer Encyclopedia
(see "
A Comprehensive Guide to Jeff Lemire's 'Black Hammer'
").