Gen Con News
:
ICv2
was invited by Ryan Dancey, COO of Alderac Entertainment Group, to take asneak peek at
Lost Atlantis
, a new board game slated for trade release in 2020. It was originally designed by the Moliis Brothers to be a flight exploration game, but AEG changed the theme in development.
"When we first bought this game, it was about being a biplane pilot in the 1920s, flying around the Sahara Desert looking for lost pyramids," said Dancey. "It has evolved. Now, it is about being the captain of a Jules Verne‑esque submarine, sailing around the ocean floor, looking for signs of lost Atlantis."
Lost Atlantis is now an underwater exploration game where players gather clues to discover sunken pyramids, defeat their guardians, and collect treasures. The core of the game is a puzzle revealed by compass directions found by players on seafloor tiles. Players use these directions to scour the quadrants of the board for clues to discover pyramids. There is a central portal in the middle of the board that accumulates player scoring tokens as pyramids are claimed, and the game ends when all the central portal spaces are filled up. The player who accumulates the most Victory points throughout the game wins.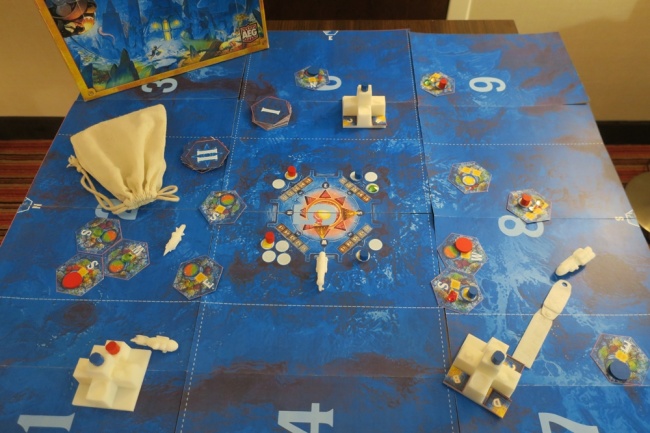 Lost Atlantis
is projected to come with 4 submersible miniatures, 7 pyramid miniatures, 4 propulsion sticks, 12 propulsion stick extensions, 46 seafloor tiles, 44 puzzle pieces, 7 pyramid clue tokens, 120 player markers, 74 treasure tokens, 1 first player token, 4 submersible boards, 1 game board, 1 portal tile, 1 treasure bag, 1 scorepad, and a rulebook. Components may vary upon completion of the finished game. The game supports two to four players, ages 14+, and plays in around 45 minutes.
Lost Atlantis will be up on Kickstarter in the early part of 2020, and into trade release in the second half of the year. It will kickstart for $50, and will retail for between $65 and $69.
Click on the Gallery below to see more images of Lost Atlantis!