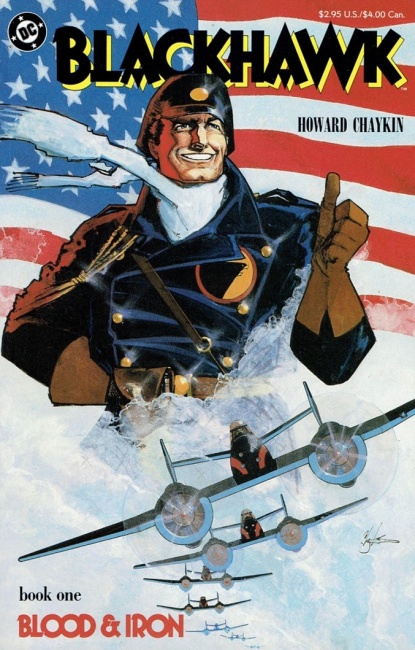 For the first time, DC Comics is collecting Howard Chaykin's controversial run on the Golden Age-Bronze Age legend Blackhawk. The hardcover volume collects
Blackhawk: Blood & Iron
#1-3, plus stories from
Action Comics Weekly
#601-608, #615-622, and #628-635 and
Secret Origins
#45. The 384-page collection hits comic shops on December 11, 2019 at $49.99 MSRP.
Chaykin's original miniseries,
Blackhawk: Blood & Iron
#1-3, ran in 1988 to generally good reviews, but some outrage over changes to the character. The mini was popular enough to gain Blackhawk a slot for three eight-issue runs in the revamped
Action Comics Weekly.
Chaykin's storyline has the Will Eisner/Chuck Cuidera creation accused of Communist leanings. Disgraced, he stumbles across a plot to overthrow the U.S. government and bomb New York City concocted by former Nazis out for revenge against the United States.
The DC Black Label collection features a cover by Howard Chaykin, with stories by Chaykin, Martin Pasco and Mike Grell, and art by Chaykin, Grant Miehm and Rick Burchett.