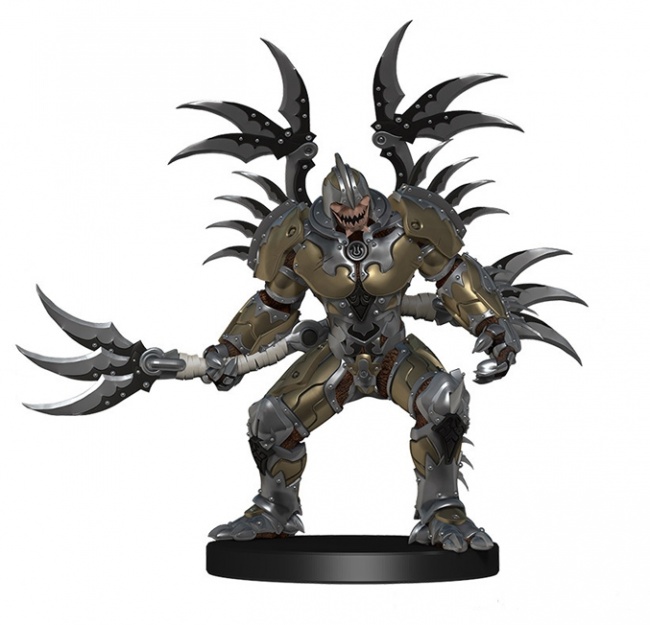 WizKids revealed that
Eberron: Rising From the Last War
Booster Bricks and
Premium Set - Skycoach
, collectible miniatures for
D&D Icons of the Realms
, will be headed to stores in March 2020.
The D&D Icons of the Realms: Eberron: Rising From the Last War collectible miniatures set features several races and monsters from Eberron for players to add to their D&D campaigns. Eberron, is a war-torn world filled with magic-wielding artificers where noir-style intrigue is combined with swashbuckling fantasy (see "WotC to Release 'Eberron: Rising from the Last War' in November"). The new set of miniatures will contain artificers, Shifters, Warforged, and other infamous Eberron characters, including The Lord of Blades.
This set of collectible fantasy miniatures comes in two product types: the Standard Booster and the Standard Booster Brick of boosters. Boosters each come with four figures: one Large figure and three Medium or Small figures. Standard Bricks contain eight boosters, and a case is made up of four Standard Bricks. There are 44 pre-painted figures in this set, and the eight-count Standard Bricks will retail for $127.92.
The D&D Icons of the Realms: Eberron: Rising From the Last War Premium Set - Skycoach is a pre-painted miniatures set that contains various airship pieces for Eberron campaigns. This Case Incentive contains the following items: a Skycoach, a Gangplank, a Ladder, 6 Soarsleds, and 18 Soarsled base extensions. Six units come to a master carton, and this set will retail for $79.99.
WizKids will also release D&D Icons of the Realms: Monster Pack: Village Raiders in October (see "WizKids Announces New 'Dungeons & Dragons' Monster Minis Set").
See Gallery below to see full-size images!