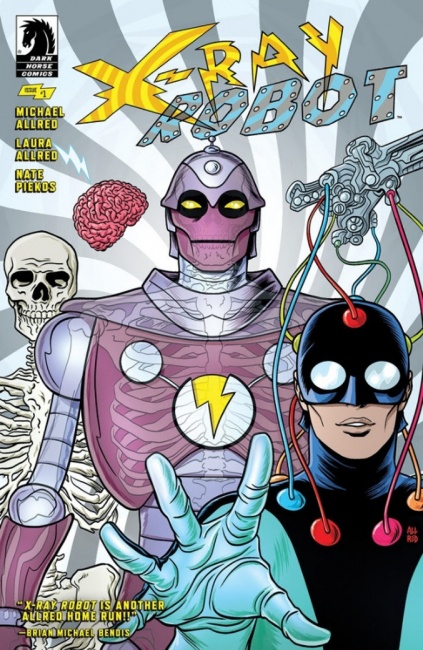 Dark Horse Comics will launch
X-Ray Robot
on March 25. The four-issue series is written by Michael Allred, with colors by Laura Allred and letters by Nate Piekos. Each issue will include bonus 3D pin-ups.
The new title takes place in Allred's Madmaniverse, he said in a statement accompanying the announcement. "Some of the threads are more obvious than others, but most of my creator-owned work ties together," he said. "It shouldn't surprise anyone to have someone familiar show up from my other "Madmaniverse" books like
It Girl, The Atomics, Spaceman, Mr. Gum
, or
Red Rocket 7
."
X-Ray Robot
centers on a Max, a family man seeking a more interesting life. When Max accidentally opens a tear in the fabric of reality a robot appears claiming to be his 277-year old self. The robot can "X-Ray" multiple dimensions and is locked in a battle with a nihilistic entity who wants to take all life back to its "Pre-Big Bang" status. The two set off on an interdimensional road trip though the past and present to save the universe.
Allred also contributed art for a David Bowie biography due out in January (see "
Insight Comics to Publish 'Bowie' by Horton and Allred, with Gaiman Intro; 'Buyan'
").