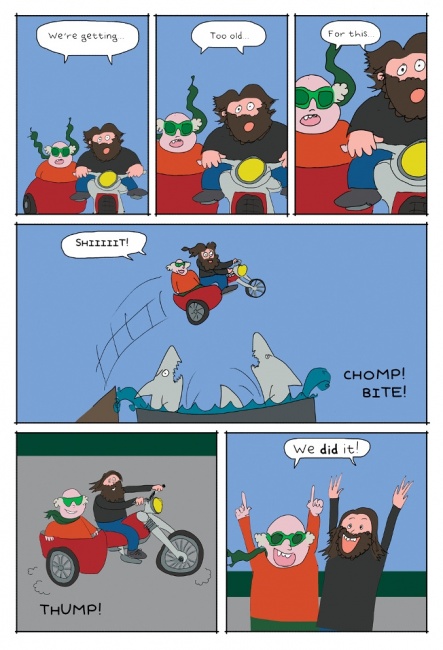 Fantagraphics Books will publish
Post-Apocalypto
, a graphic novel tied to the YouTube movie and album by Tenacious D (comedians-musicians-actors Jack Black and Kyle Gass), in September. The art, by Black, and the story, co-written by Black and Gass, were originally created for the movie (released first in six video chapters). The story is set in a post-apocalyptic world (natch) following the detonation of an atomic bomb.
The first chapter has 1.5 million views on YouTube, and the full movie has 473,000 views, so a substantial audience is aware of the property.
The group gave Fantagraphics much love in a statement accompanying the announcement. "When we finished this book there was only one publisher we ever really considered," Tenacious D said. "Fantagraphics has been the shining beacon of creativity in comic books for decades. We are thrilled to release our magnum opus with the undisputed greatest and best comic book publisher in the world."
The 180-page, 9" x 12" hardback, due out in September, will retail for $29.99.
Click Gallery below for interior preview art!