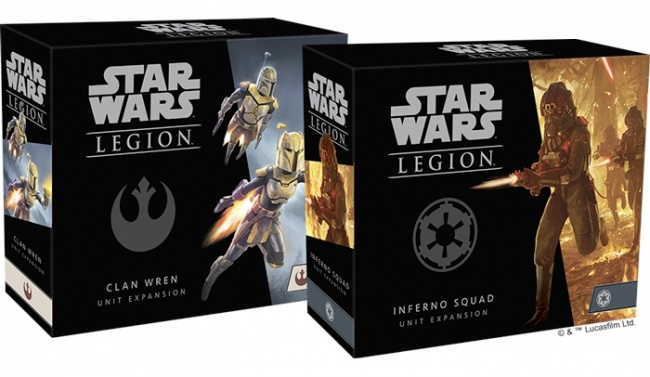 Later this year, Fantasy Flight Games will release four new
Unit Expansions
for its
Star Wars: Legion
tabletop miniatures game: the
Clan Wren Unit Expansion
, the
Inferno Squad Unit Expansion
, the
Republic AT-RT Unit Expansion
, and the
STAP Riders Unit Expansion
.
Drawn from the Star Wars Rebels series, the Clan Wren Unit Expansion features seven proud Mandalorian warriors ready to join the Rebel Alliance. The set includes three models equipped with jet packs and flight stands, including the character Tristan Wren armed with a bolter rifle. Also included are four Mandalorians on foot, one of which can be equipped with a beskad saber or blaster pistol and another depicting Clan Wren matriarch Ursa Wren. MSRP is $34.95.
The Empire meanwhile receives the Inferno Squad Unit Expansion, which comes with seven special forces troopers, specialists at infiltration and intelligence missions, armed with T-21 Blasters. This set includes an optional E-11 blaster rifle and optional helmetless versions of Gideaon Hask and Del Meeko plus Meeko's DLT-19x sniper rifle. MSRP is $34.95.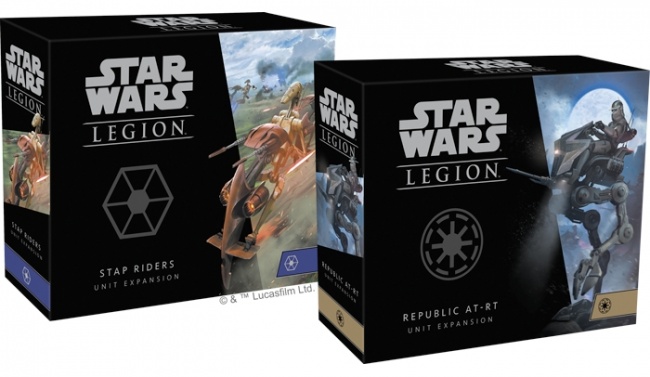 The Clone Wars era factions also get some reinforcements. The Galactic Republic can add the
Republic AT-RT Unit Expansion
, which comes with a single two-legged scout walker. The walker itself can be equipped with a rotary blaster, laser cannon, or flamethrower and comes with two options for its Advanced Force Recon clone trooper pilot. MSRP is $29.95.
Rounding out the quartet is the Separatist Alliance's STAP Riders Unit Expansion, which features a pair of B-1 battle droids mounted on flying "single trooper aerial platforms." These vehicles add mobile firepower and enhanced communication links to Separatist armies. The B-1 droids can be posed in a variety of ways, while different flight stands allow the STAPs to fly at different heights. MSRP is $29.95.
Click Gallery below to see the new miniatures.
All models are supplied unpainted and some assembly is required. Release dates have not been announced.
Star Wars: Legion continues to be a solid seller, raking #4 on ICv2's list of top non-collectible miniatures last fall (see "Top 5 Non-collectible Miniature Games--Fall 2019"). Fantasy Flight previously announced plans to release sets featuring Padme Amidala and Cad Bane (see "'Padme Amidala' and 'Cad Bane' Arrive on the 'Star Wars: Legion' Battlefield") and Clone Wars era special forces units (see "Clone Wars Elites Reinforce 'Star Wars: Legion'") later this year.