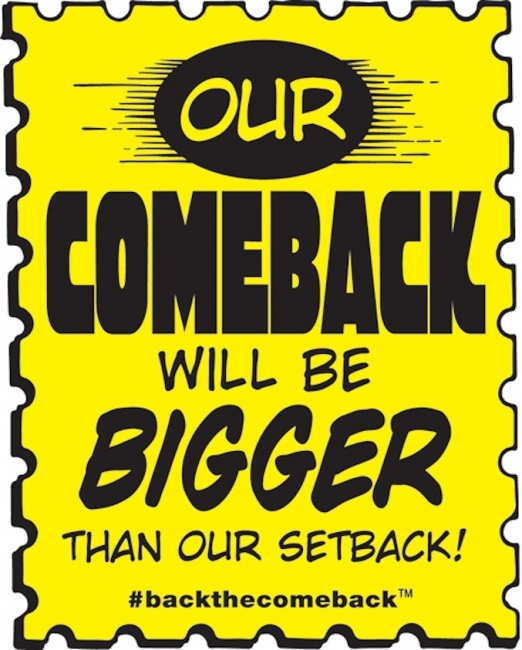 Geppi Family Enterprises companies Diamond Comic Distributors and Alliance Game Distributors have launched "Back the Comeback," a marketing campaign created in partnership with publishers and industry influencers to rally support and consumer business for comic and game stores as they reopen, restart, and rebuild, the companies announced. The campaign, built around the slogan "Our Comeback Will Be Bigger than our Setback," will roll out in three phases: a social media campaign beginning today, a charity auction later this summer, and in-store promotions.
The social media campaign kicks off with a challenge: GFE CEO Steve Geppi has recorded a video message that will appear on Twitter, Facebook, and YouTube in which he challenges five friends to #BackTheComeback and post messages of support for their favorite comic or game store while asking their friends and fans to do the same. (Note: for more from Geppi on the campaign, see "
ICv2 Interview: GFE CEO Steve Geppi on the 'Back the Comeback' Campaign
").
A
BacktheComeback
website was also launched today with information on the challenge and campaign and a link to purchase campaign t-shirts. Proceeds from sales will be distributed to charities that support comic and game stores.
Geppi has donated items worth approximately $50,000 to kick off the second phase of the campaign, a charity auction to be conducted by Diamond International Galleries this summer. Other donations to the auction will be collected, and winning bidders will donate directly to one of three charities supporting retailers and submit proof of donation to DIG to receive their item.
The in-store promotions will take different forms for the two companies. Alliance will offer weekly retailer promotions, while Diamond will partner with publishers to place the Back the Comeback logo on the cover of select comics to mark the time period and focus on rebuilding.
The timing is built around the re-opening of the GFE companies. Diamond Comic Distributors is shipping comics to stores for May 19 and 20 release dates, the first new product it has distributed since late March (see "
Diamond To Resume Weekly New Product Distribution
"). Alliance Game Distributors, which also shut down in late March, has shipped this week's
Magic: The Gathering
release,
Ikoria: Lair of the Behemoths
, and will re-open for regular business at some warehouses next Monday, May 18 (see "
Alliance Game Distributors to Resume Operations May 18
").
"To say these last few months have been challenging would be an understatement," GFE CEO Geppi said in a statement released with the announcement. "My hope is that "Back The Comeback" will reassure our retailers that our community is here to support them. "I am proud to collaborate with industry colleagues on this campaign to spread the word about "Back The Comeback" so that together, our comeback will be bigger than our setback."
The three charities supported by the campaign are: