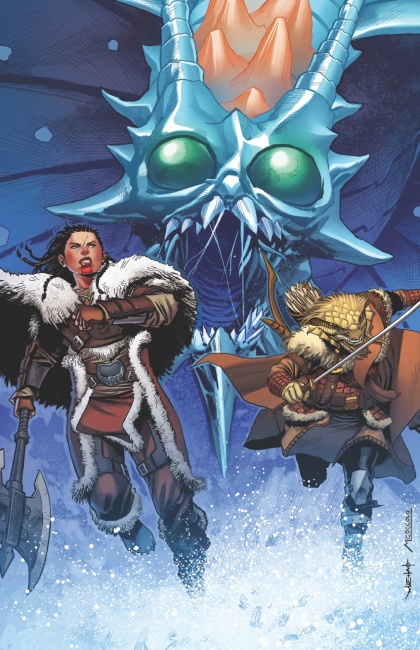 IDW Publishing announced that former WWE superstar AJ Mendez (AJ Lee) and Aimee Garcia from the hit series
Lucifer
will team up to pen
Dungeons & Dragons: At the Spine of the World
.
AJ Mendez, formerly AJ Lee of WWE fame, has been a rising star in the comic book business since her 2017 memoir Crazy Is My Superpower which was a New York Times Best Seller and then, her tag team effort for GLOW vs. The Babyface with Aimee Garcia (see "'GLOW vs. The Babyface,' by WWE, 'Lucifer' Stars"). Mendez and Garcia have decided to join forces again, but this time they are taking on the fantasy realm of Dungeons & Dragons.
"The fantasy genre is a source of solace, love, and belonging for me, so entering the world of Dungeons & Dragons is exciting and squeal-inducing in a way that probably isn't professionally acceptable. But it's too late now, IDW is stuck with me!" says Mendez. "This is a prestigious and beloved title and we're proud to join the party."
Their four-issue miniseries At the Spine of the World storyline will take place in Icewind Dale, the new D&D setting coming out this September (see "The Frostmaiden Summons a Dark Winter in 'Dungeons & Dragons'"), where a band of adventurers battle an icy god and discover the nefarious schemes of an ancient evil. Artwork for the issue will be provided by Martin Coccolo who previous worked on IDW's Magic: The Gathering and Star Trek: Year Five. Dungeons & Dragons: At the Spine of the World #1 will also feature multiple cover variants including covers by Martin Coccolo, a roleplaying game-style Character Sheet design by Max Davenport, and two Retailer Incentive editions by Catherine Nodet and Max Davenport.
Click on Gallery below for full-size preview images!