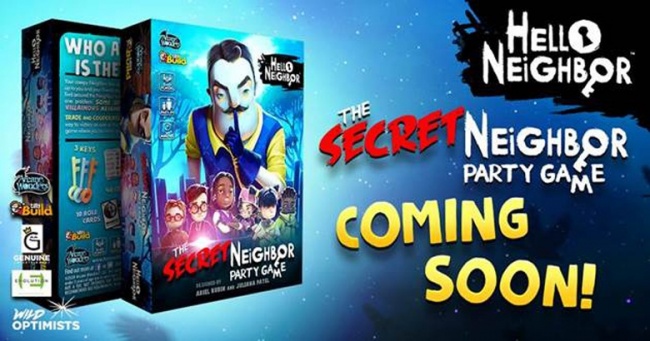 Arcane Wonders, along with tinyBuild, Evolution, and Genuine Entertainment, revealed
Hello Neighbor: The Secret Neighbor Party Game
, based on the popular video game, for release in October.
This new party game, designed by Ariel Rubin and Juliana Patel, builds off of the Hello Neighbor and Secret Neighbor video game, and bring this social deduction game to the tabletop. Players assume the roles of one of the neighborhood kids, the treacherous neighbor, or a secret neighbor to locate keys and unlock a door to win. The kids win if the door gets unlocked, but the neighbors are trying to trick the kids into letting them use the key. This requires no narrator and doesn't eliminate players which makes sure the players are engaged throughout the game.
This game is for five to ten players, ages 8 and up, and plays in 30 minutes. It will retail for $19.99.
Arcane Wonders will also release Aquatica, a underwater building board game by Cosmodrome Games, into U.S. trade in October (see "Create Underwater Kingdoms in 'Aquatica'").