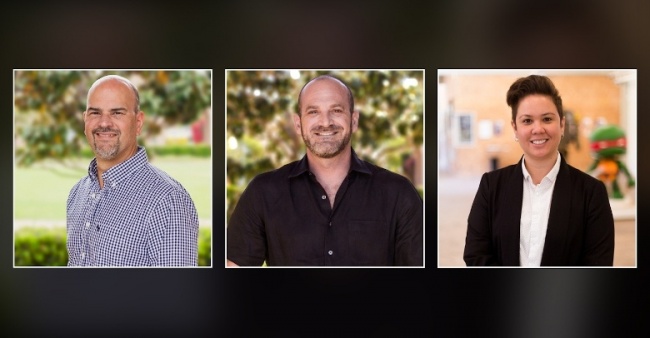 In the wake of the departure of IDW Publishing President, Publisher, and CCO Chris Ryall yesterday (see "
President, Publisher, and CCO Chris Ryall Departing IDW
"), IDW has promoted a number of executives to new positions, the company announced. Jerry Bennington is the company's new President, Jud Meyers is the company's new Publisher, and Rebekah Cahalin is now General Manager and EVP of Operations for both IDW Publishing and IDW Entertainment.
Bennington, most recently IDW Executive Vice President of Product Management, has been at the company for over eight years, one tranche of his 30-year portfolio in the business of geek culture, which also included 7+ years at The Upper Deck Company, finishing as VP of Marketing, Entertainment. In his new role, Bennington will oversee IDW Publishing's strategic business units, integrate product cross-platform programs, establish product growth initiatives with partners, broaden customer experiences to new platforms, and expand the company's extensive IP portfolio. During his time at IDW, Bennington developed new product lines, including IDW Games and IDW Limited (see "IDW Interview: IDW VP New Product Development Jerry Bennington"), and expanded the company's licenses, adding Batman the Animated Series, Dragon Ball Z, Metal Gear Solid, and Usagi Yojimbo.
Meyers joined IDW last year as Sales Director, after a stint at Humanoids as Director of Sales and Marketing and 20 years in comic retail in London and Los Angeles, where he co-founded Earth 2 and owned and ran Blastoff Comics (see "IDW Announces Hire in Sales"). In his new role, Meyers will oversee all aspects of production and publication.
Cahalin rejoined IDW Publishing last year as General Manager / Head of Operations. She had left in 2018 after nine years, ending as Digital Publishing Director (see "IDW Announces Hire in Operations"). In her new role, she will oversee and integrate all operations and business activities.
"All three executives are already valued and vital members of the IDW team as well as inspiring leaders," new IDW CEO Ezra Rosensaft said of the promotions. "I have no doubt that they will accomplish great things in their new positions."