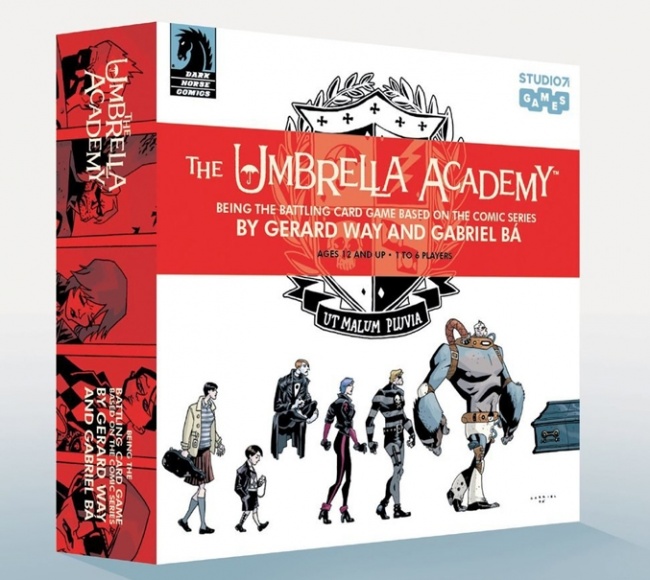 Dark Horse Comics and Studio71 Games revealed new details about their
The Umbrella Academy Card Game
which was announced last year (see "
Studio71 and Dark Horse To Develop Tabletop Game Based on 'Umbrella Academy'
").
The new battling card game will be released pending a successful Kickstarter which launches on July 28. It is a cooperative game where players take on the roles of the seven siblings, "Five", "Seance", "Space Boy", "The Rumor", "The Horror", "The Kraken", or "Vanya", to take down villains like "Carmichael", "Dr. Terminal", "Perseus X and Medusa", and "Hazel & Cha Cha". This game was designed by Gerard Way and Gabriel Ba who gave the following statement about its release:
"We are thrilled with the continued fan response and reception to The Umbrella Academy. Our love for these stories and characters is what makes us excited for you all to get to experience them firsthand with the Studio71 Umbrella Academy Card Game," said Way and Ba.
One of the more noteable mechanics in this game keys in on fostering a sense of dysfunction amongst the Umbrella Academy siblings. The game features dysfunctional family cards that build the comic themes into the game and affect each round. It is a cooperative all-or-nothing victory condition, so either the siblings win or the villains overwhelm them.
Also, the new season of The Umberella Academy will launch on Netflix on July 31 (see "'Umbrella Academy' Gets a Release Date").
Click on Gallery below for full-size images!