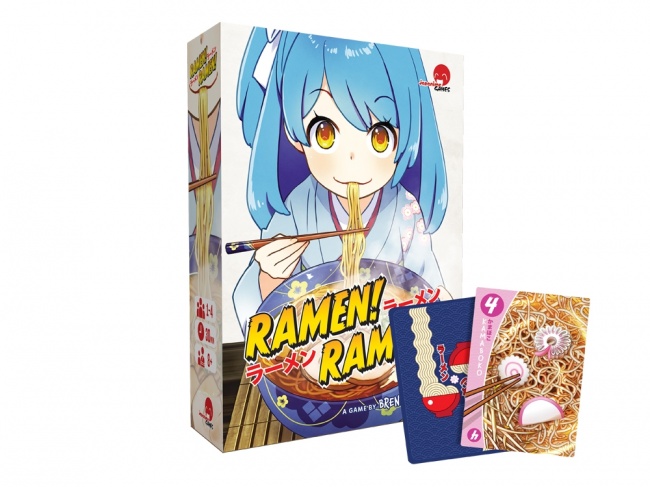 Japanime Games unveiled
Ramen! Ramen!
, a ramen-slinging card game by Brendan Hansen, for release in November 2020.
Players have landed a job as a line cook in one of the best ramen shops in the world, and they need to prove their worth to stay on the line. The cooks have also made a pact that the cook that slings the most bowls of delicious ramen to their customers will get all the tips for the day. The goal of this game is to outwit the other line cooks and sling customers the best and most bowls of ramen for points. Each turn, players will add ingredients to their ramen dishes to make the bowls have higher point totals, and the player with the most points after the draw pile runs out and the last bowls are served wins the game.
The game box comes with 56 ingredient cards, 3 oversized Bowl cards, 4 reference cards, and a rulebook. This game supports one to four players, ages 8 and up, plays in 30 minutes, and will retail for $14.95.
Japanime Games will also release Big Eyes, Small Mouth 4E: Core Book, an anime roleplaying game by Dyskami Publishing, in late Summer 2020 (see "Japanime Games Will Release 'Big Eyes, Small Mouth 4E: Core Book' Into Trade").