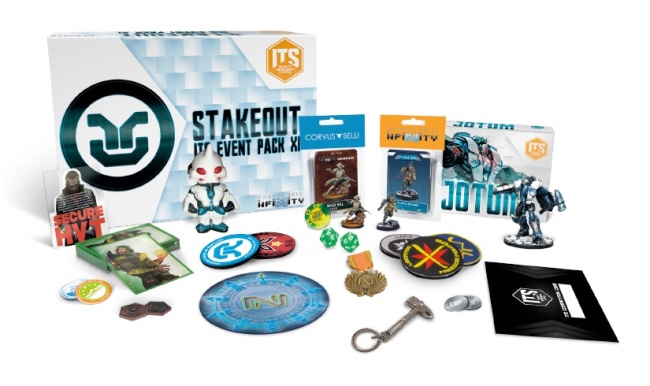 On October 23, Corvus Belli will release the
STAKEOUT: Season 11 Event Tournament Pack
for the
Infinity
tabletop miniatures game.
STAKEOUT is intended to support tournament play, with everything needed including a complete Competition Pack plus the prizes needed for the tournament and some exclusive extras: Jotum (TAG) Armored Cuirassier miniature, Ye Mao Infantry miniature, Jotum patch, Ye Mao patch, a pair of metal Regular Tokens, a Jotum's Hammer key chain and a chibi-style Jotum anti-stress doll. The tournament scenario features an effort by El forces to breach the Jotum's Paradiso front.
MSRP is €74.95 (approximately $87.98). All miniatures supplied unpainted.
Click Gallery below to see components from the pack.
Last month, Corvus Belli announced the fourth edition of the Infinity game (see "Corvus Belli Announces New 'Infinity' 'N4' Edition").