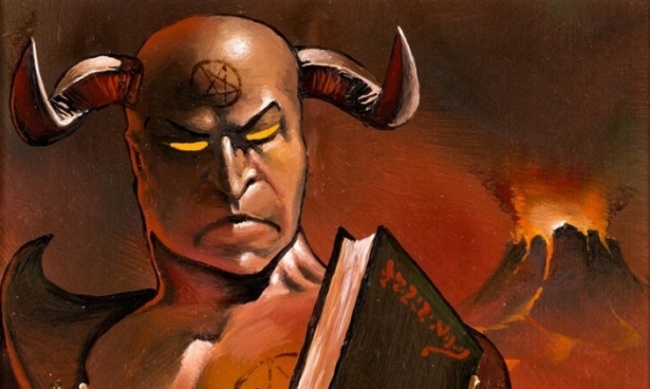 Heritage Auctions announced that Douglas Shuler's
Demonic Tutor
original artwork, from the
Magic: The Gathering Alpha
set, will be headed to the auction block at the Comic Signature Auction on November 19-21.
Since the dawn of Magic: The Gathering, there have been a few pieces of card artwork that have stood out as being "iconic", such as Christopher Rush's Black Lotus, Mark Tedin's Juzam Djinn, and Mark Poole's Birds of Paradise. Douglas Shuler's Demonic Tutor falls squarely into this category as being one of the most celebrated art pieces in Magic: The Gathering history. Now, this 6.75 in. by 5.75 in. watercolor illustration of Richard Garfield's vision of a dark tutor is headed auction, and will likely set a benchmark for the potential value top-tier original Magic: The Gathering Alpha artwork.
In addition to the Demonic Tutor, the auction features a Christopher Rush piece from Alpha called Mana Flare. Although not an iconic image, it is still a Rush piece, and will serve a test marker for the value of his original artwork after his unexpected passing in 2016 (see "RIP Christopher Rush"). Other original Magic: The Gathering pieces for sale in this auction include Shuler's Contract From Below, Tedin's Jayemdae Tome, and Poole's Fear.
Also in the realm of fantasy art sales, Heritage Auctions recently auctioned Frank Frazetta's A Princess of Mars original painting which realized $1.2 million in September (see "Frazetta Painting Comes to Market").