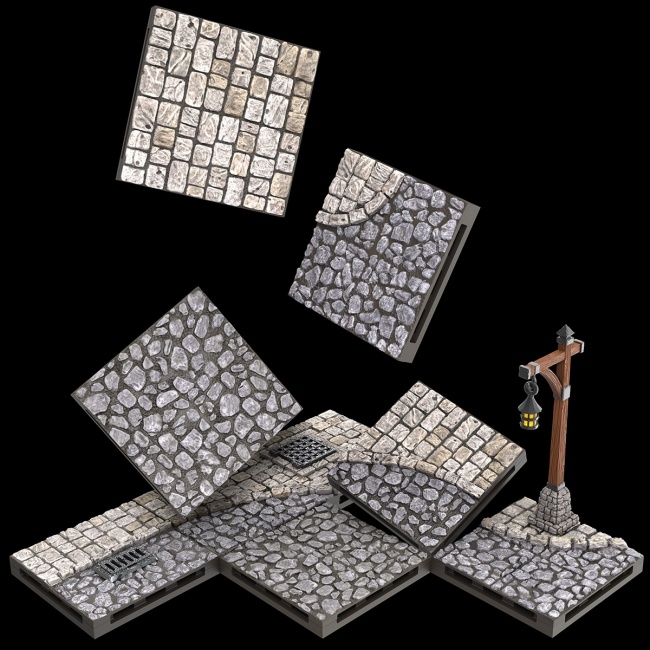 WizKids announced
WarLock Tiles: Town and Village: Town Square
, a new tile scenery set, for release in January 2021.
Now, D&D players can create their own 3D layout for an exciting chase through the city streets or a lazy day of sauntering past merchants. This set includes removable lampposts, and modular sewers with drains for customization. It also connects with the other Town and Village sets for larger layouts, and street tiles can be positioned as crosswalks, dead ends, and more.
The set box comes with 16 Cobblestone Street Tiles, 18 Flagstone Sidewalk Tiles, 16 Half Street Tiles, 8 Street Inside Corner Tiles, 4 Street Outside Corner Tiles, 6 Flagstone Left Turn Tiles, 6 Flagstone Right Turn Tiles, 6 Cobblestone Left Turn Tiles, 6 Cobblestone Right Turn Tiles, 3 Metal Storm Drain Accesses, 3 Metal Storm Drain Lids, 3 Metal Sewer Accesses, 3 Metal Sewer Lids, 3 Iron Grates, 3 Flagstone Circle Accents, 3 Flagstone Square Accents, 3 Lampposts, and 100 WarLock EZ Clips. This set will retail for $129.99.
WizKids also recently announced the starter and full versions of Dungeon Tiles II: Full Height Stone Walls Expansion and Town and Village Tiles II: Full Height Plaster Walls Expansion (see "WizKids Reveals Second Round of 'Warlock Tiles'").
Click on Gallery below for full-size images!