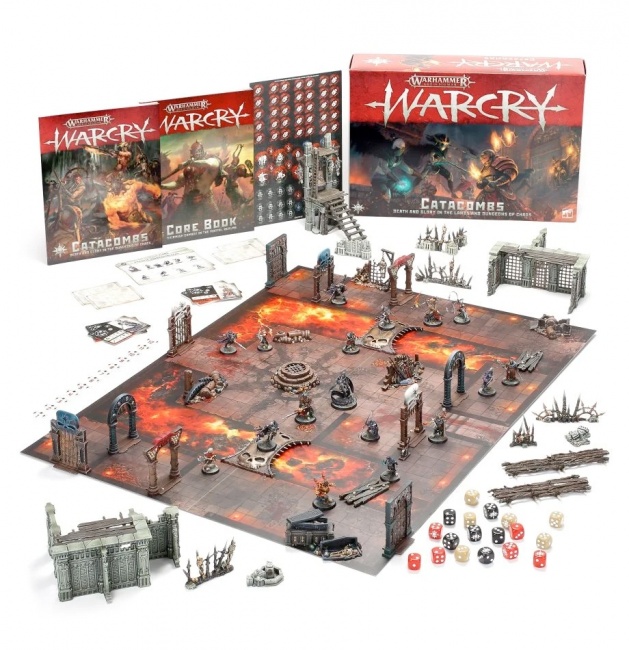 Games Workshop is taking its
Warcry
skirmish-scale miniatures game underground with the new
Warcry: Catacombs
starter set, shipping on October 31.
Launched in 2019, Warcry creates small-unit battles between warbands of fighters from the Warhammer: Age of Sigmar fantasy setting, with a focus on the worshippers of Chaos (see "More 'Warcry' Details, More 'Age of Sigmar,' Bigger '40,000' Battles"). Warcry: Catacombs expands the playing options by introducing rules for fighting in underground dungeons and labyrinths. The game is designed to support both stand-alone battles and linked campaigns.
The new starter set also features two new factions for the game: The fire-based "Scions of Flame" and the "Khainite Shadowstalkers." It includes all of the models needed for both warbands as well as 37 pieces of three-dimensional terrain, with dungeon doorways, bridges, objective markers, and ruins all supplied.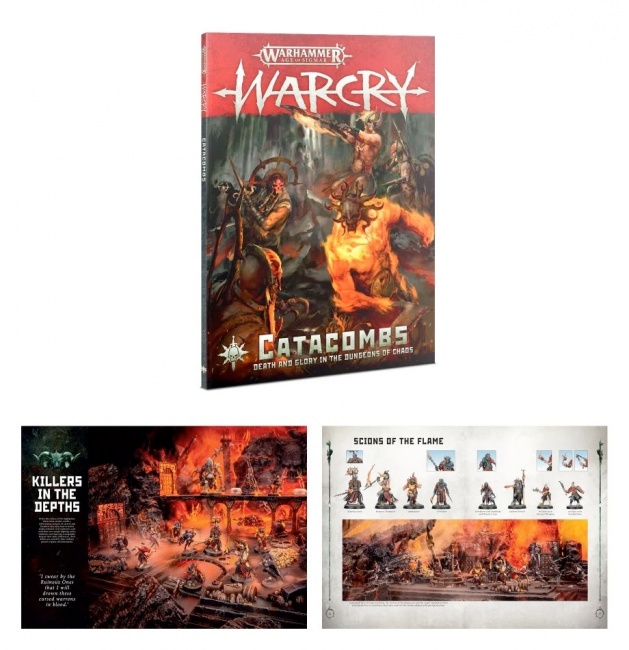 In addition to the miniatures,
Warcry: Catacombs
comes with everything needed to play the game, including the
Warcry Core
rulebook, the
Catacombs
supplement—which explains the rules for underground battles and descriptions of Varanthrax's Maw, its principle setting—plus dice, tokens, and a double-sided 22-inch by 30-inch folding game board. MSRP is $210.00.
Click Gallery below to see miniatures and other components from the game.
All of the miniatures included in Warcry: Catacombs can also be used with Warhammer: Age of Sigmar, using rules that can be downloaded for free.
Four additional new warbands will release at the same time, each sold separately: Warcry: Ironjaws, Warcry: Kharadron Overlords, Warcry: Skaven, and Warcry: Flesh-Eater Courts. Each boxed set includes miniatures, cards, and tokens needed to play the game using that warband.
Warcry was honored as the "Best Miniatures Game" by the Academy of Adventure Game Arts & Design as part of the 46th annual Origins Awards (see "Origins Awards 2020 Winners Unveiled").