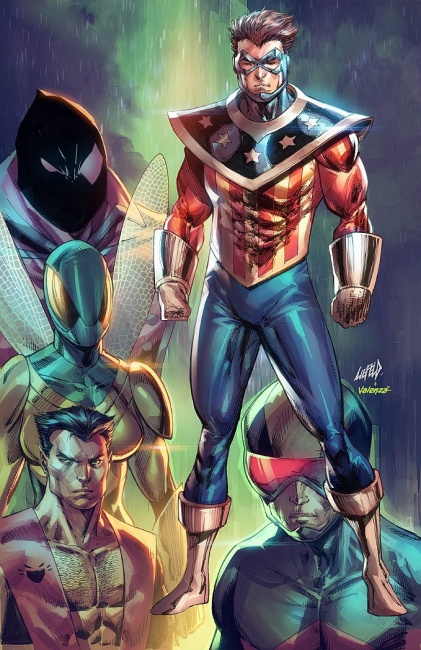 Archie Comics has tapped Deadpool co-creator Rob Liefeld to create a four-issue comic series featuring the legacy superhero team Mighty Crusaders. The series will launch in 2021. Liefeld is a writer and artist, but Archie Comics did not say what roles he would be filling on the new series or whether he would be working with other creators. The purpose of the series is to reintroduce legacy characters such as the Shield, the Comet, the Jaguar, and Fly-Girl to modern readers and possibly raise interest in TV or movie adaptations. Archie has had success with television programs such as
Riverdale
and
The Chilling Adventures of Sabrina
in recent years.
The Archie superhero characters have a long history. The company was still known as MLJ Comics when it introduced the super-patriotic character The Shield in
Pep Comics
in 1940, and it published six series with superhero content during the 1940s. Teen humor proved to be more popular, however, and by the end of the 1940s MLJ had changed its name to Archie Comics and shifted its focus to the Riverdale gang, publishing only a few superhero titles after that. In 1965 the editors brought together several characters into the team they dubbed The Mighty Crusaders. The team first appeared in
Fly-Man
#31 and after three issues got its own title, with Superman co-creator Jerry Siegel as the writer. That series lasted for seven issues. Archie continued to revive the superheroes from time to time and also licensed them to DC Comics in the 1990s.
In 2012 Archie relaunched the 1980s-era Red Circle imprint as a mixed digital-print line (see "
Paul Kaminski on Archie's Superhero Revival
"). The flagship team was now The New Crusaders, who were the children of the original Mighty Crusaders. In 2017 Archie rebranded the superhero imprint as Dark Circle and published self-contained stories about the individual characters (see "
Confessions of a Comic Book Guy – Everything's Apparently Archie
").
Click Gallery below for Liefeld preview art!