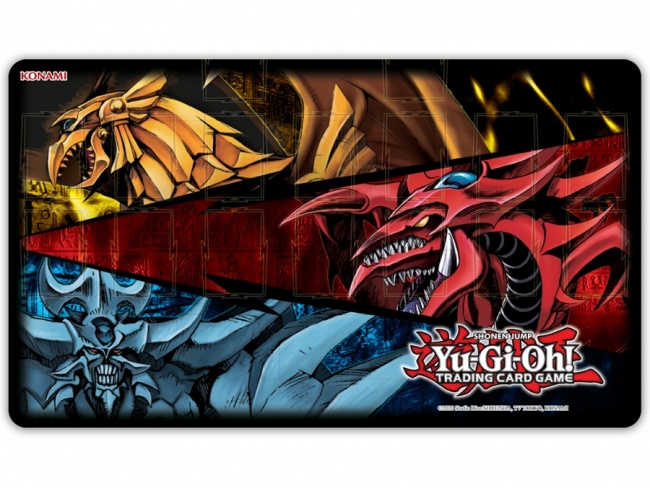 Konami Digital Entertainment will release new Egyptian God-themed accessories for the
Yu-Gi-Oh! Trading Card Game
in June. The
June 2021 Accessories
(official name to be announced later) features art of Slifer the Sky Dragon, Obelisk the Tormentor, and the Winged Dragon of Ra.
The June 2021 Game Mat is a full-sized, rubber mat that are the same size as the mats used as prizes in sanctioned events. MSRP for this product is $14.99.
The June 2021 9-Pocket Duelist Portfolio features 10 pages with 9 pockets each, allowing Duelists to store and display up to 180 cards. Each pocket is designed to be side-loaded, adding more protection for the cards. This product will retail for $9.99.
The June 2021 Card Sleeves comes with 50 tournament regulation sleeves. MSRP for this product is $3.99.
The June 2021 Card Case is designed to fit 70 sleeved cards, allowing room for a full Main, Side, and Extra Deck. The case includes a special divider featuring a matching design. MSRP is $4.99.
Konami previous announced Ancient Guardians for a Spring 2021 release (see "Konami Announces 'Ancient Guardians'").
Click on the Gallery below to see full-size pictures of the accessories!