The graphic novel publisher First Second Books plans a varied lineup of middle-grade graphic novels for the first half of 2021, with a handful of adult tltles rounding out the catalog. Notable middle-grade titles include a new creator-owned superhero from the creators of Supergirl: Cosmic Adventures in the Eighth Grade, a new magical-realism story by the creator of Pashmina, and a super-cute comic about a cat who runs a movie theater/dessert café. Adult titles include two original graphic novels (one based on the comedy podcast 'Bubble') and two new titles in the World Citizen Comics line, including a graphic adaptation of Dan Rather's What Unites Us.

Middle Grade
All comics are for ages 8-12 unless otherwise noted; as in previous seasons, First Second has a few comics for younger and older readers in that middle-grade range as well.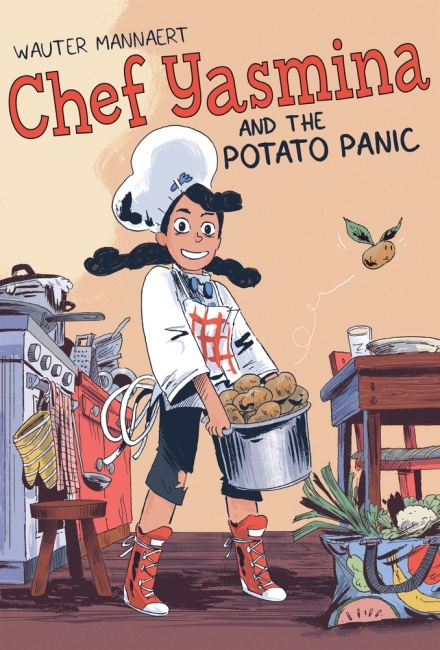 Chef Yasmina and the Potato Panic
by Wauter Mannaert: A girl who loves to cook has to save her town from a plague of mysteriously addictive potatoes in this middle-grade comedy-action story. Originally published in Dutch, this book has a European feel, similar to Joann Sfar's Little Vampire books, with borderless panels and a limited palette. The 160-page paperback was released on January 26 with an MSRP of $14.99.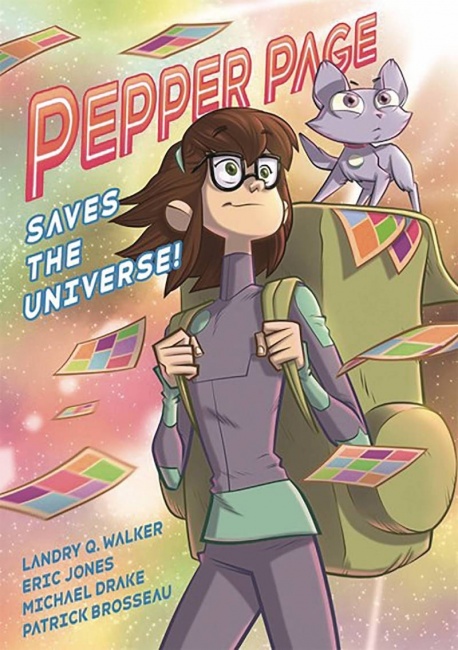 Pepper Page Saves the Universe by writer Landry Q. Walker and artist Eric Jones:
Walker and Jones, the creators of
Supergirl: Cosmic Adventures in the Eighth Grade,
are back with a new superhero of their own. Pepper Page is a 25th-century comic-book geek who learns, after an encounter with a mysterious cat and a mad scientist, that she is a superhero herself. Like Kamala Khan when she became Ms. Marvel, Pepper has to learn to master her superpowers, something that's a lot harder in real life than in a comic. The book will be available on February 16 in two formats, a hardcover with an MSRP of $22.99 and a paperback with an MSRP of $14.99.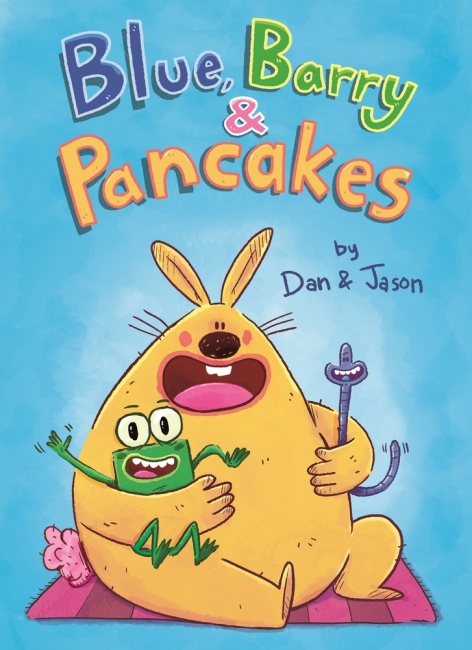 Blue, Barry & Pancakes, by Dan Abdo and Jason Patterson
: A bunny, a worm, and a frog get into silly scrapes in this action-comedy graphic novel designed for emerging readers, ages 4-8. The authors, who simply go by Dan & Jason, are the animators who created the television program Rocket Monkeys. This is the first in a planned series of at least three books. The 96-page hardcover will be released on March 9 with an MSRP of $12.99, and the second volume,
Blue, Barry & Pancakes: Escape from Balloonia,
is scheduled for June 8.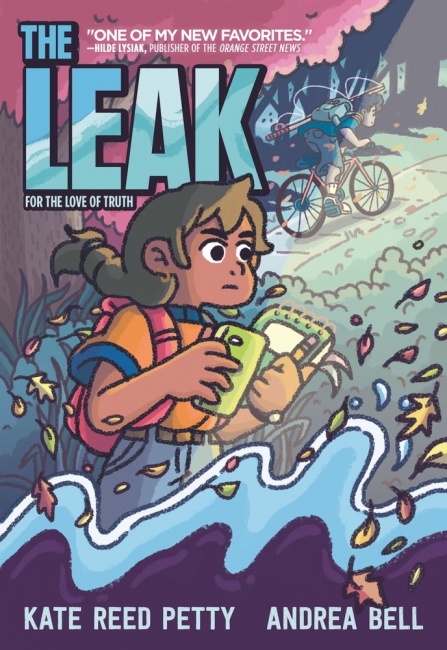 The Leak, by writer Kate Reed Petty and artist Andrea Bell
. A young journalist finds something amiss in her suburban neighborhood and has to fight to get to the truth. When Ruth Keller finds a mysterious black slime in the lake near her house, she's determined to find out the source, but there are powerful interests who don't want that to happen. This environmentally-themed mystery will be published on March 16 as a 260-page paperback with an MSRP of $14.99.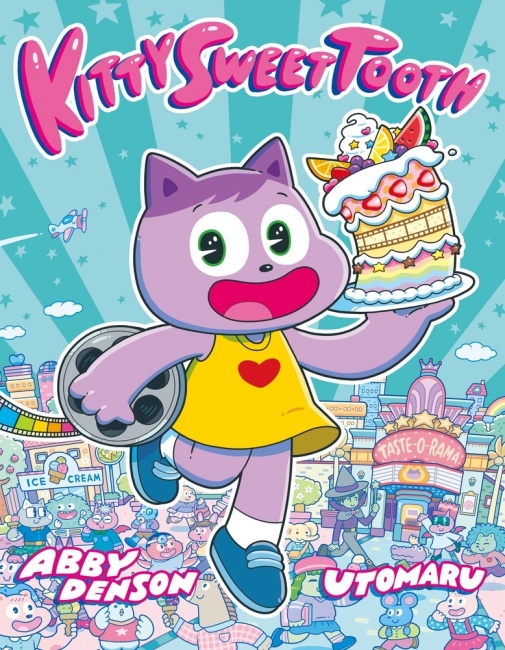 Kitty Sweet Tooth, by writer Abby Denson and artist Utomaru
: When her favorite movie theater is about to close, Kitty Sweet Tooth comes to the rescue by transforming it into Taste-o-Rama, a combination cinema and dessert café that offers specially made sweets to match the movies. The new business gets off to a rocky start thanks to magical mishaps in the kitchen. This super-cute, candy-colored comic is pitched at younger middle-grade readers, ages 6-10 (the same audience as
Dog Man
, basically) and will be published on April 6 as a 96-page hardcover with an MSRP of $17.99.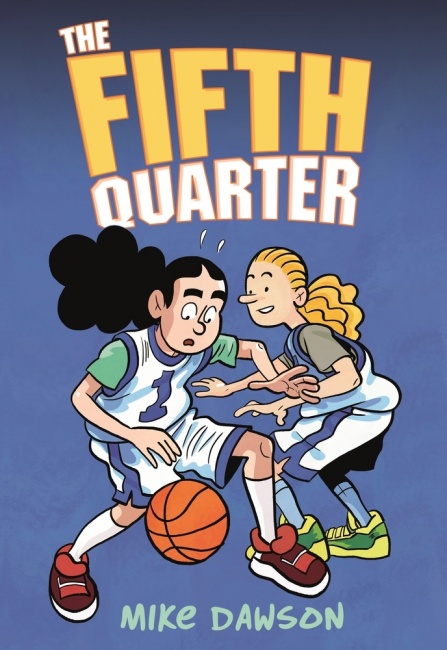 The Fifth Quarter, by Mike Dawson
: Fourth-grader Lori loves playing basketball, building up her skills and her self-confidence. Life isn't so great off the court, where she struggles to fit in with the other kids. And actually, it's not so great on the court either, because Lori's not good enough to play in actual games, so she and the other less skilled kids play before the game, a period known as the fifth quarter. Nonetheless, she is determined to do better, in basketball and in life. This 240-page paperback will be published on May 11 with an MSRP of $12.99.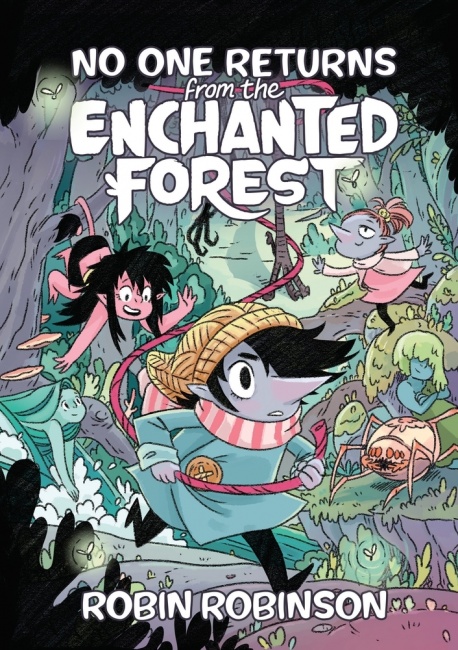 No One Returns from the Enchanted Forest, by Robin Robinson
: A fantasy story with a similar vibe to the Hilda books, filled with a variety of quirky characters, this is the tale of two sisters: Pella, who is fearless, and Bix, who is not. When their village is threatened by earthquakes, Pella heads out to the lair of the Earth Queen to tell her to stop, and Bix follows to keep her safe. Robinson was the artist for The City on the Other Side. The 240-page paperback is scheduled for May 25 release and will have an MSRP of $14.99.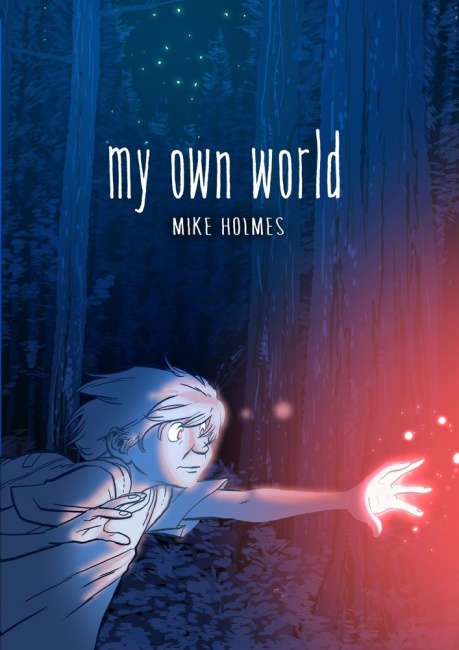 My Own World, by Mike Holmes
: Holmes, the artist for the best-selling
Wings of Fire
graphic adaptations, strikes out on his own with a blend of memoir and fantasy in a story that tackles some heavy emotions. Nine-year-old Nathan worships his older brother Ben, and he doesn't have many other friends. Plus the local teenagers pick on him. He finds a portal to a magical world where he can fly and have adventures, but reality pulls him back hard. Holmes uses different color schemes, an acid green and turquoise for Nathan's reality (including his bickering but loving family) and lush magenta for the fantasy sequences. This is one of those middle-grade graphic novels that has a lot to offer adult readers as well; it has some of the same elements of Nate Powell's
Swallow Me Whole.
The 240-page paperback will go on sale on June 22 with an MSRP of $12.99.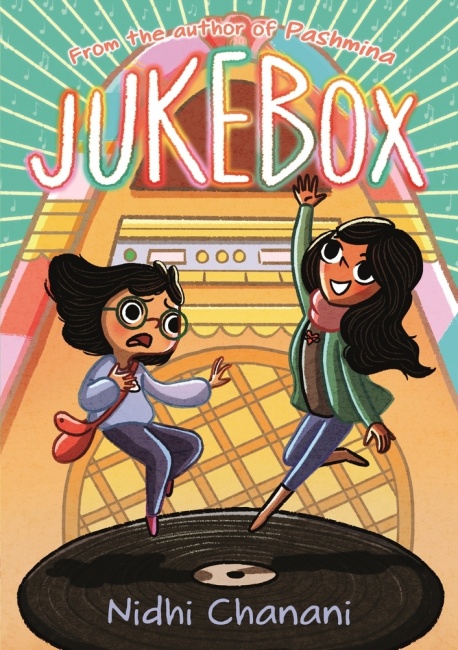 Jukebox, by Nidhi Chanani
. Chanani is the author of
Pashmina,
and this story has a similar theme. In
Pashmina,
a magical shawl brought a teenage girl through India in search of her mother's past. In
Jukebox,
a mysterious jukebox pulls Shaneen and her cousin Tannaz into another time and place, leading them through decades of music history while they search for Shaneen's missing father. Pitched at readers aged 10-14, the 240-page paperback is scheduled for June 22 and has an MSRP of $14.99.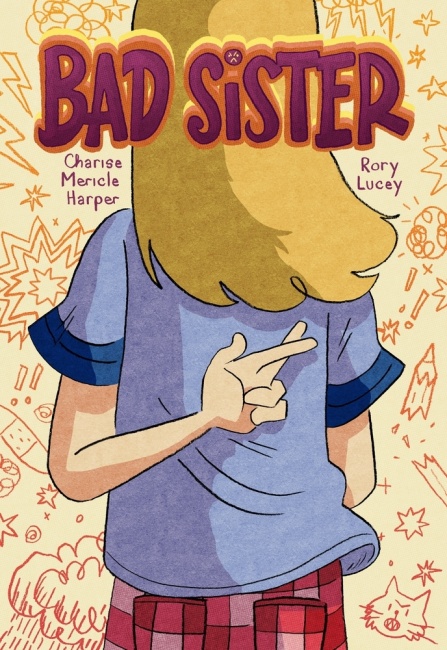 Bad Sister, by writer Cherise Mericle Harper and artist Rory Lucey
: Harper, the author of super-cute graphic novels including the Crafty Cat and Fashion Kitty books, but this middle-grade story goes a bit deeper. Cherise is a good kid but a bad sister, and when her little brother's tooth gets broken in an accident she could have prevented, she has to face up to her own mixed feelings. The 240-page paperback will be released on July 13 with an MSRP of $12.99.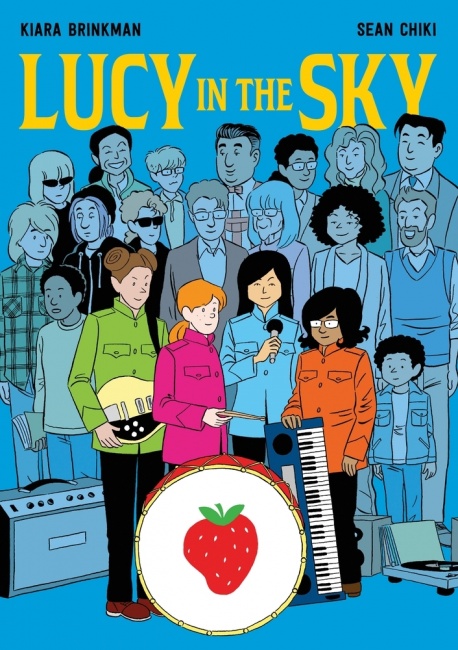 Lucy in the Sky, by writer Kiara Brinkman and artist Sean Chiki:
Seventh-grader Lucy Sutcliffe is in that awkward place where she's not connecting with her friends like she used to, plus there's a lot going on at home, none of it good. Her life takes a turn when she finds her father's old Beatles albums and is inspired to start an all-girl band, but just like the original Fab Four, internal and external conflicts threaten to stop the music. Rated for ages 10-14, the 304-page paperback is slated for release on July 27 with an MSRP of $14.99.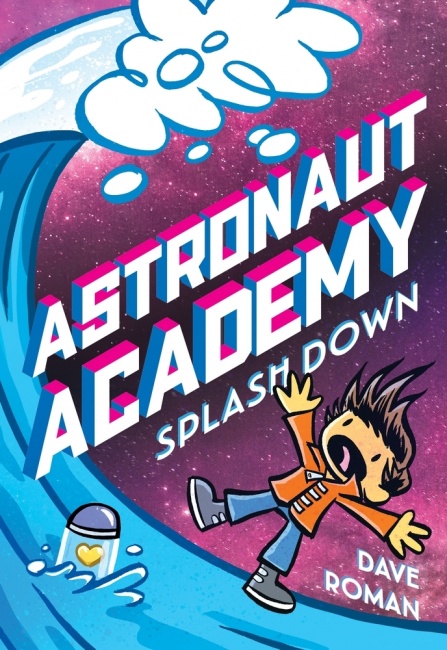 First Second also has some new volumes in existing series. They will reissue Dave Roman's
Astronaut Academy: Zero Gravity
and
Astronaut Academy: Re-entry
in new full-color editions along with a new third volume,
Astronaut Academy: Splashdown.
All three will be published on April 6 as paperbacks with an MSRP of $12.99 (see "
Review of 'Astronaut Academy: Zero Gravity' TP
").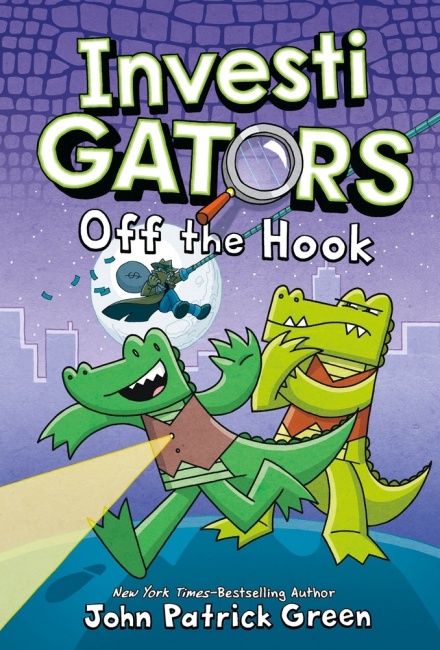 The third volume in John Patrick Green's InvestiGators series,
InvestiGators: Off the Hook,
will be published on February 23 as a hardcover with an MSRP of $9.99.
Evan Dahm's Island Book: The Infinite Land
will be published on May 18 with an MSRP of $24.99. This is the followup to his
Island Book,
published in 2019; Dahm is well known to webcomics fans as the creator of
Rice Boy.
Cici's Journal: Lost and Found,
the sequel to Cici's Journal, will go on sale on July 20 with an MSRP of $15.99.
Other planned releases include
History Comics: The Wild Mustang
(February 23);
Science Comics: The Digestive System
(March 24);
Maker Comics: Build a Robot
(March 30); and
Science Comics: Spiders
(June 22), all with an MSRP of $12.99. These nonfiction graphic novels are targeted at readers aged 9-13.
Adult Comics
First Second has four titles for adults lined up between now and the end of July.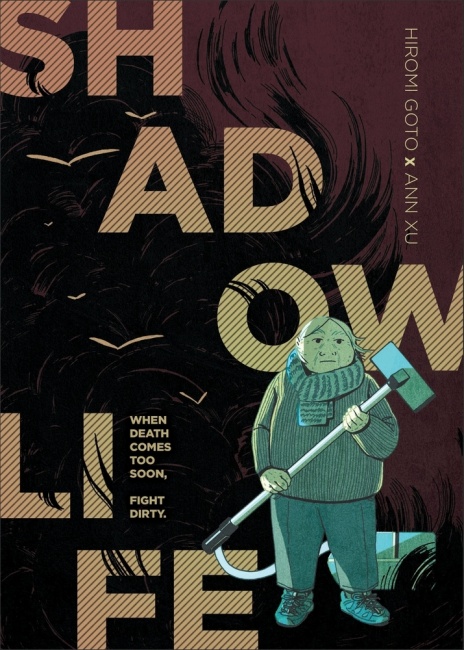 Shadow Life,
by poet and novelist Hiromi Goto, illustrated by Ann Xu
, is a story about a 76-year-old widow who runs away from the assisted living residence where her daughters had moved her and then has to flee death itself. The 368-page, black and white hardcover will be released on March 30 with an MSRP of $24.99.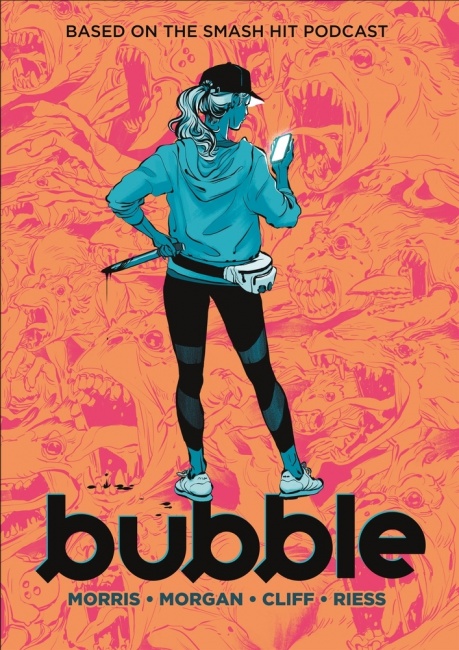 Bubble, by writers Jordan Morris and Sarah Morgan and artist Tony Cliff
, is based on the scripted comedy podcast of the same name. It's a satire on the gig economy, set in a carefully tended, corporate-owned city that's a haven in a wilderness occupied by dangerous imps and feral humans. The 272-page paperback goes on sale on July 13 with an MSRP of $19.99.
The other two titles are in its World Citizen Comics line:
What Unites Us,
an adaptation of Dan Rather's book, to be released on February 16, and
Re: Constitutions
, scheduled for July 13; both are hardcovers with an MSRP of $28.99.