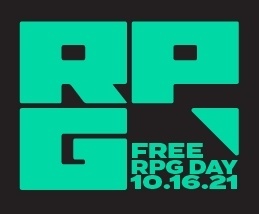 Free RPG day will be held on October 16, 2021, organizers Gaming Days LLC announced, with a return to the traditional June date planned for 2022. Last year's event was moved from June to July due to the Covid pandemic (see "
Free RPG Day Rescheduled for July
"); the pandemic has once again caused the event to be moved in 2021.
"[W]e wanted to give everyone involved the opportunity to return to something closer to normal," Gaming Days' Paul Alexander Butler said. "By moving this year's event to October, our publishing partners will have more flexibility to provide compelling offerings for the day and our hope is that more stores will be closer to safely hosting a highly-attended event or even in-store gaming."
Despite the challenges, the 2020 event was the most successful in its history, with over 500 stores participating, according to the organizers.
Gaming Days has released info on participation, with publishers asked to commit by April 9, and retailers able to begin ordering Free RPG Day kits on the event website beginning March 30.
Gaming Days hopes to bring back its second event, Board Game Expo (see "
Retailers To Host Board Game Expo
") in 2022.