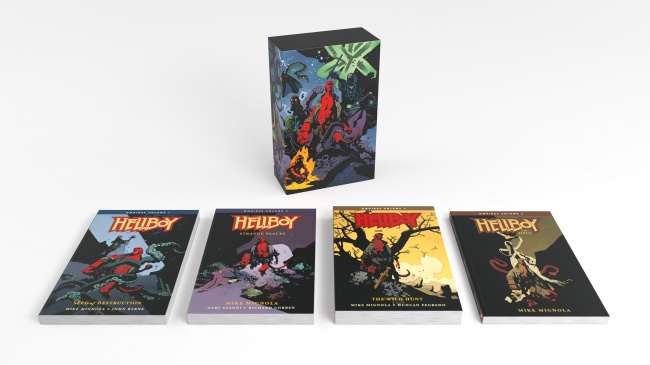 Dark Horse Comics revealed
Hellboy Omnibus Collection Boxed Set
for release on September 29 into retail and October 12 into bookstores.
This fall, Mike Mignola's Hellboy series will be omnibized again (see "The Lore of Hellboy Collected") by Dark Horse in an all-new boxed set. This is the first time Hellboy has been collected in a boxed set form, and it will feature slipcase art by Mignola and award-winning colorist Dave Stewart. This set collects all four Hellboy series TPB omnibuses: Seed of Destruction; Strange Places; The Wild Hunt; and Hellboy in Hell.
The boxed set contains 1600 pages worth of stories, and will retail for $99.99.
Click on Gallery below for full-size images!