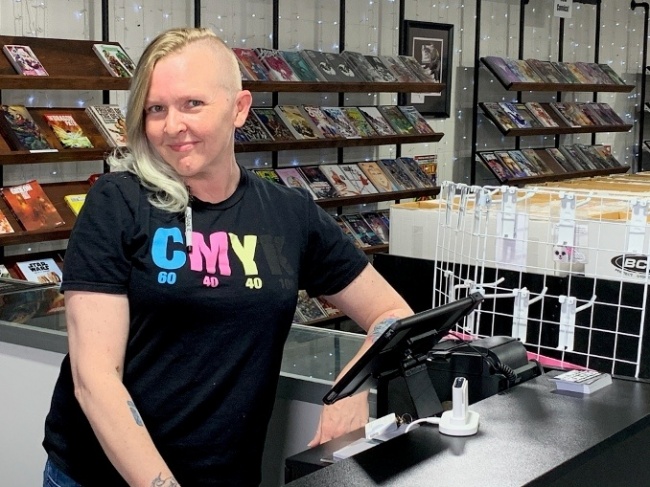 In Business 3x3, a business retailer or executive will share their experience with three things they've done right, three things they've done wrong, and what else they've learned along the way.
Jami Jones had a varied work background, but one true love.
Jones worked at big-box retail, as waitstaff ("Hasn't everybody?," she asks), at a newspaper, in a psychiatrist's office, and even dealt blackjack at a tribal casino. But her mind kept drifting back to the
other
job she held in her younger days: working at a comic store.
"I absolutely loved it. It was my favorite job," she says.
Then a fateful call from a friend led to opportunity, one she tried to talk everyone out of. After some back and forth, Jones "fell backward" into owning a comic store along with two friends, Chris Brennaman and Brandon Mealor.
The store, Infinite Realities in Tucker, GA, in metro Atlanta, opened its doors on December 1, 2018, and has seen almost half its existence eaten up by a global pandemic. But it's still found a way to thrive, and has taught Jones a lot...
THE GOOD
DON'T STOCK TO YOUR TASTES
"When we built the store, we built it on an indy bookstore model," Jones says. "But we can't let our tastes be the only flavor. I feel what happens with a lot of stores is that people order to their own egos and their own taste. But you've got to be able to take step back and say, 'I may not like this book, but hey—I like the money.'"
Infinite Realities gives the people what they want, but still leans in around the edges.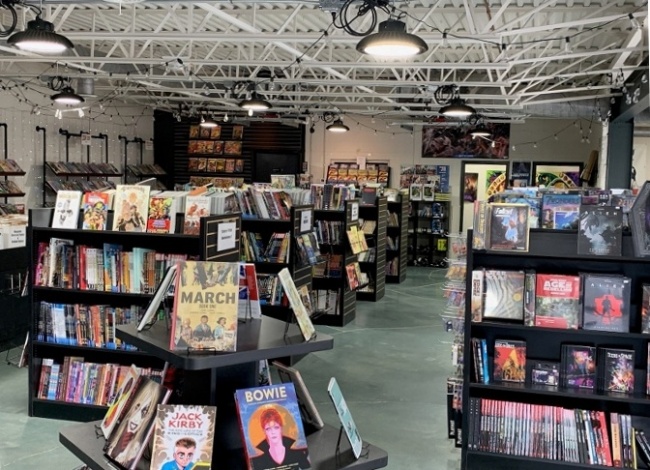 "Don't get me wrong, there are books we
will
stock more heavily because we do believe in it, or maybe there's a local creator involved," Jones says. "And I think we've done well at that, keeping in mind when we do ordering… it's not about us. It's about what our customers tell us. We order what the customers want; not what we want."
PROVIDE COMMUNITY
Jones knows competition is tough, but there's more to compete on other than just price and convenience.
"You can get books anywhere. You can get
comic
books anywhere," she says. "I can order 1,600 different comic books and get them delivered to my house within three days. So we have to offer an experience; a community."
Right from the jump, Infinite Realities was event-heavy.
"We have (had, and will again) artist meet-ups. We have workshops, we have
D&D
, and within that, DMing workshops and kids
D&D
nights. Everything. Artist signings and pop-up shops. Thursday night
Pokémon
, which was almost all kids 12 and under and was
so cute
! We support the community."
And the good thing about community… it can grow on its own as well.
"The parents, the moms, they started a coffee meetup when they brought their kids in for
Pokémon
night," Jones says. "And then a crafting group! Now they all know each other, and they've all become friends, and honestly seeing that has probably made me the happiest in this. Making connections for people is the best."
Cultivating a community also paid dividends when times got tough.
"Investing in that community saved us during COVID," Jones says. "We had people calling in to buy T-shirts, coffee mugs, books for friends, board games, anything, just to help us. And it brought me to tears, many, many times."
TREAT A BUSINESS LIKE A BUSINESS
Community's great! But you still have to draw the line.
"Our friends come and visit us all the time, and we make friends with our customers," Jones says. "Our customers got me wedding gifts when I got married. They're like
family
, right? End of the day, though, I gotta close this shop up and you gotta go home. This is still a business, and I still have to charge you."
Community being a two-way street… Jones says her customers get it.
"You can't put off other customers or abruptly leave them when another customer comes in, and I think we've done well by keeping that in mind," she says. "I think our customers understand that, too. A customer gets that when a new face comes in and I do have to leave them eventually and greet the new face…I'm doing my job. That's part of the business."
THE BAD
DON'T GO TOO SLIM
Caution can be good, but Jones wishes she could get a do-over on opening day at the store.
"I've seen stores go under, I've seen things go wrong, so when we started, our philosophy was to keep things as slim as possible, while still keeping it awesome," she says.
Jones erred on the slim side, and awesome is what came knocking at the door.
"Our grand opening was amazing, sales were through the roof, people came in from all over, and it was the happiest day, but… if we had more, we could have sold more," she says. "That, I wish we would have gone harder on. We have now expanded the store, expanded our depth of product, fleshed it out. But that was a learning experience. I wish I would have taken the time to
over
-fill the store."
PRACTICE INTERNAL COMMUNICATION
In 2021, we have face-to-face, phone calls, text messages, email, Slack, Zoom, and hell, you can leave a message on a Post-It Note. Sorting the signal from noise can prove vexing.
"There are three business partners here, and we all take each other's opinions very, very seriously," Jones says. "Brandon lives in Athens, about an hour and a half away. He comes down and works one or two days a week. Chris and I both are both way closer, so we talk to each other way more often and… miscommunications happen
constantly
."
Jones, like everyone, is trying to sort the connotation gap that can exist between the spoken word and the written word.
"You'll send a text and think someone understands the tone of it, but you bring into it whatever you might be feeling at the time," she says. "Then later you're on a group call trying to figure out why the house is burning down. Those tiny miscommunications can bring everything to a halt."
It's still a work-in-progress.
"We've had to make a point to try and get our communication better," Jones says.
DON'T STRETCH YOURSELF TOO THIN
Ah, yes, the great entrepreneurial lament: The tendency to be chief cook and bottle-washer on everything. Jones and her partners know it well.
"We take on too much," she says. "We plan, 'Okay, I'm going do all this, you're going to do all that,' and end of the day… it doesn't always get done. There's only so many hours in the day."
Jones, like
many other retailers
, is also trying to remind herself that days off are a good thing.
"The reason I have Thursdays off is because I've been told I
have
to take a day off," she says. "That said, today's a Thursday, and I'm still at home doing spreadsheets. We're still having that problem. We're spreading ourselves too thin; we take on too much."
AND WHAT ELSE?
"I worked with conventions in Georgia, Dragon Con, I do some programming with them. And I'm the director of comics programming for MomoCon. Eventually, they got big enough where they said, 'You need an assistant director.' So I talked to my friend Chris [Brennaman], who I met at Dragon Con. We were in a meeting and he said, 'I want to open a store with you someday.' I said, 'I'm happy where I am right now, going about my business and living my life.'
"Then he calls me later and says, 'Hey, can you have lunch with me and a friend? We're talking about opening a store, and I told him I wouldn't do it without you.' I told him okay, but I was going into that meeting to talk them out of it. I mean, I've seen so many stores fail, and see people who I care about who loved what they were doing take a loss. I had been in the comics industry 6-7 years, cumulatively, at this point. I wanted them to have reaI expectations. I didn't want them to lose their money!
"And… they convinced me! I guess I had kind of got to a point where I had gone as far as I could in that life. And I could never run a store the way I wanted to unless it was my store. So they offered me everything I wanted. It started out as me trying to stop them… and now I own a store. I fell backwards into it. But it's a good story."
"The building was a specialty auto shop. That is a garage door, it does open. We've only opened it a couple times to load in or load out because pollen in Georgia is awful and I'm just not dealing with it. So it says down."
"A comic store... we're comfort food, right? We make people feel safe and warm and loved. There's
nothing better
than that. It's like eating a big bowl of mashed potatoes. Or we're chicken and waffles. We're like that."
"We had all of 2019, and the first year was good, if not nerve-wracking. You're figuring out everything, the community, what role you can fill and everything. Then COVID hit, and we have to shift gears a different way. When we did our five-year plan, we did
not
plan for that.
"We shifted our POS system to a Shopify system. That way, if there was another shutdown, we could shift to an online store only with the click of a button. That was a good system just to learn. We've shifted a bit more to mail order, and emphasized more board games, stuff for people who were stuck at home."
"At the end of the day, this is retail and that's a
job
. I mean, I do spreadsheets. You don't think about that when you open a comic store."
"I
can
put away the spreadsheet. There's always new Japanese wrestling to watch. That was the COVID curse that I got; Chris and Brandon got me into wrestling. But I like the indy wrestling stuff, not WWE. I'm the hipster of the wrestling crowd."
"The most important thing is… the friends we made along the way? I know that's me trying to be funny, but seriously, I don't know if we would have made it through COVID without friends checking in, customers emailing us. Even if they didn't buy anything, just checking in felt good; you knew you were part of their community."
"I genuinely love the minutiae of retail; that's been the most surprising thing to me. I enjoy spreadsheets and margins?"
Click Gallery below for store pics!