Walmart has said that in-store signing instructing merchandisers not to stock the trading card section with 'Pokemon TCG' or sports card products (see "Mass Merchants Pull 'Pokemon TCG,' Sports Cards") was incorrect, and that is not pulling trading card products from its shelves, in a statement given to the New York Times.
"We have not suspended the sale of any trading cards," the company said. "Like other retailers, we have seen increased customer demand, and we are determining what, if any, changes are needed to meet customer demand while ensuring a safe and enjoyable shopping experience."
The Walmart we visited Thursday night had no
Pokemon TCG
or sports card products on its shelves; but we did find one
Pokemon
deck product stocked three deep (but no sports card inventory) at the Walmart Supercenter store we visited on Saturday.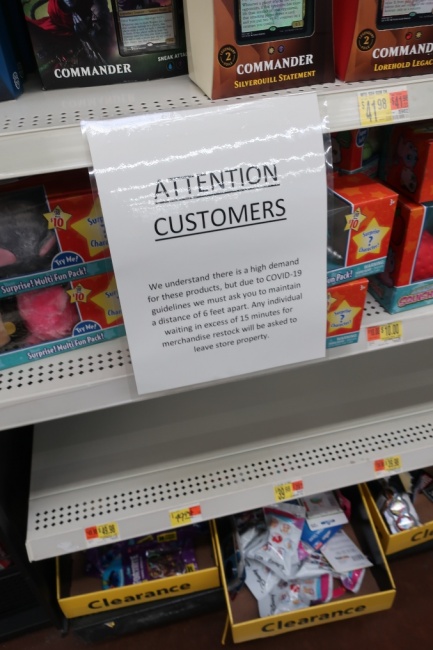 The Supercenter had signage limiting customer loitering and mandating spacing for those waiting for merchandisers finishing their work. Signage with that message has been in place since at least early April (see "
Pro-Channel Check – Walmart SuperCenter, April 5, 2021
").
Target has affirmed its policy suspending sales of Pokemon TCG and sports card products, which began May 14.