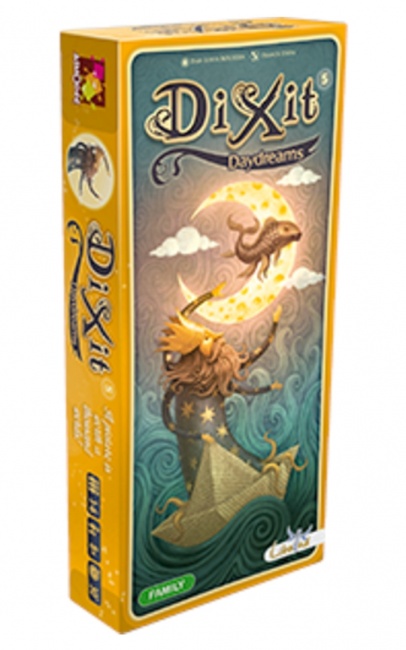 Amazon and Asmodee Group have jointly filed suit against Samuel Katz, doing business as Crazy Leaf, and Gig Trading Inc. (both of Brooklyn, New York), alleging that as third-party sellers on Amazon they sold counterfeit versions of two older expansions to the Libellud game
Dixit: Daydreams
(see "
'Dixit-Daydreams
"), and
Revelations
(see "
Expansion for 'Dixit'
").
The
Dixit: Daydreams
sold by the defendants was obtained after Amazon received customer complaints and notified Asmodee. Asmodee then placed a test order on December 16, 2019, and determined that the product they received was counterfeit.
The counterfeit
Dixit: Revelations
being sold by the defendants were actually being fulfilled by Amazon when customer complaints alerted the online giant that they were counterfeits. Amazon then shipped samples from their fulfillment center to Asmodee, which determined they were counterfeit. No date was provided for this discovery.
The counterfeits varied from the authentic versions in three ways, according to the complaint: images lacked the "vibrancy" of images in the authentic versions; the formatting of the counterfeit versions had different fonts and alignments than the authentic versions, and some colors were different from the colors in the authentic versions.
The complaint included claims for trademark infringement, false designation of origin and false advertising, and for violation of the Washington Consumer Protection Act, and asks for an injunction halting the counterfeiting operations, for the court to impound inventory, for the court to require the defendants to account for their sales of infringing products, and for damages and fees.
Co-plaintiff Asmodee acquired Dixit maker Libellud last year (see "
Asmodee Acquires Libellud
").
Asmodee has long decried the counterfeiting of its most popular games, with Asmodee North America CEO Christian Petersen declaring in an ICv2 interview back in early 2018 that the problem was "a significant problem, perhaps even an existential one" (see "
ICv2 Interview: Asmodee Execs on Counterfeiting
").
Even identifying the sellers has been a problem. Although Amazon began displaying the business names and addresses of its third-party sellers last year (see "
Amazon De-Anonymizing Third Party Selllers
"), the complaint said that "In many cases, Defendants took intentional and affirmative steps to hide their true identities and whereabouts from Plaintiffs by using fake names, contact information, and unregistered businesses to conduct their activities."
Amazon established a Counterfeit Crimes Unit last year to pursue cases such as this one.