Players of Mantic Games'
Kings of War: Armada
naval miniatures game will be able to add flying units to their battles with the new
Seas Aflame
sourcebook and three packs of miniatures:
Orc Fliers Pack
,
Basilean Fliers Pack
, and
Empire of Dust Fliers Pack
, all set to release on July 26.
The Seas Aflame supplement adds a number of new features to Kings of War: Armada, including rules for new flying units and fortifications, as well as a new campaign system and ten scenarios. The book also has expanded background information on the world of Pannithor, and reveals the next wave of fleets for the game.
The 72-page book will have an MSRP of $29.99.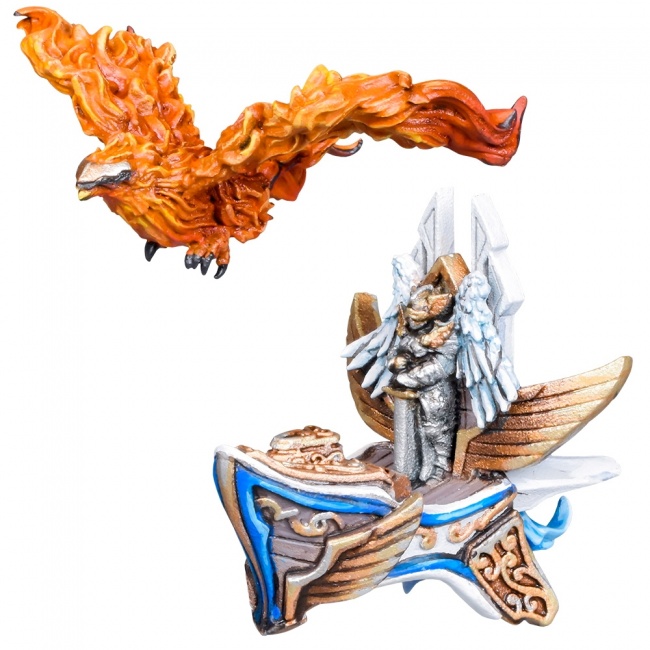 Alongside the new book will be three sets of flying units to take advantage of the new rules. Each set comes with 2 resin models, flying bases, flier cards, and a faction reference card. All three sets are sold separately with an MSRP of $17.99 each:
The Basilean Fliers Pack includes 1 Sky Altar and 1 Eternal Flame of the Phoenix.
The Orc Fliers Pack comes with 1 goblin Winggit and 1 Assault Slasher.
The Empire of Dust Fliers Pack offers 1 undead dragon and 1 flock of vultures.
Click Gallery below for images of the new models.
All models are supplied unpainted and require assembly.
Launched last year, Kings of War: Armada simulates naval battles in Mantic's world of Pannithor (see "Mantic Games Unveils 'Kings of War: Armada'"). In May, the company released a series of extra large ships for use with the game (see "Mantic Games Launches Extra Large Ships for 'Armada'").