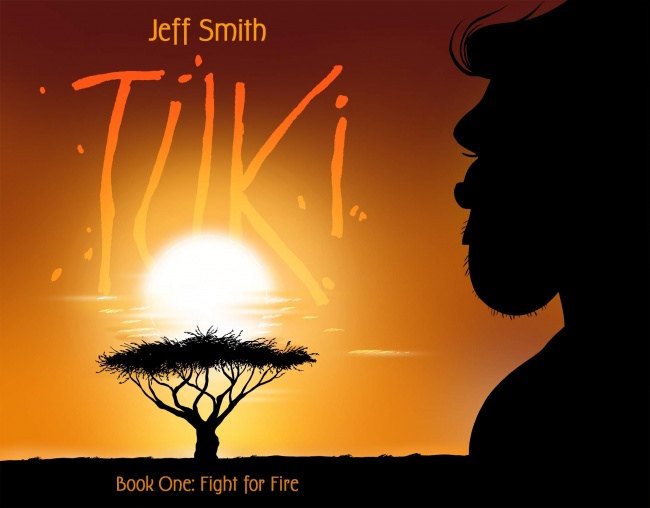 Jeff Smith, the creator of
Bone,
will release his newest comic,
Tuki,
in print later this year, after raising $269,595 from 2,943 backers to cover production costs. The first trade paperback,
Tuki: Fight for Fire,
will be available to retailers in late November and will have an MSRP of $20.00; the second volume,
Tuki: Fight for Family,
will be available in July 2022; Kickstarter backers will get their books earlier. Both volumes will be 144-page paperbacks with color covers and black and white interiors. The total series will be six volumes, so four more will be coming in future.
Smith began Tuki as a free webcomic in 2013 (see "First Collection of Jeff Smith's 'Tuki'"), and the first collection came out in July 2014. This was a 32-page full-color comic (see "'Tuki' in Color"), although the webcomic itself was in black and white. Altogether, four issues of Tuki were printed in comic book format, but then for a number of reasons, Smith set the project aside. In a quote on the Kickstarter site, he said that he decided to rework the entire comic for print: "I was trying at the time to replicate the feeling of classic Sunday pages like Flash Gordon or Prince Valiant," he said, "and while it seemed to work on the web, when collected, the one-page-a-week format had a start and stop feeling that didn't allow the story to come to life in way that satisfied me. Also, when the children showed up in the strip, I realized this is a story about family, and I needed to start over from the beginning." Thus this new edition of Tuki will be quite different from the previously released single-issue comics.