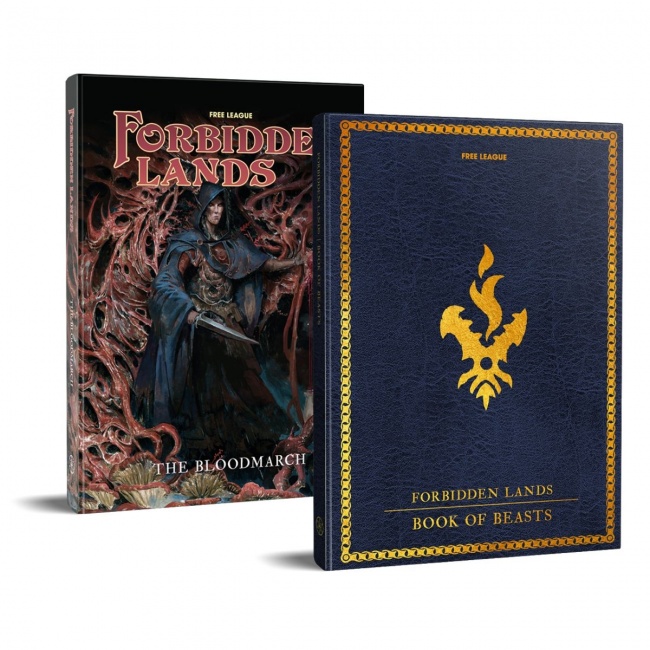 Free League Publishing is offering
The Bloodmarch
and
Book of Beasts
, for
Forbidden Lands RPG
, through a Retailer Pledge reward on Kickstarter.
The Bloodmarch is a campaign book that expands the Forbidden Lands game world. It details the volcanic lands west of Ravenland, which are now accessible to adventurers now that the Shadowgate Pass is open. This book includes a full campaign written by Swedish fantasy author Erik Granstrom called the Legacy of Horn. In this adventure, explorers hint for Horn's Astra, a legendary set of artifacts capable of stopping the demonic growth plaguing the land.
The Book of Beasts is an illustrated bestiary filled with dozens of monsters for encounters. Some monsters included in this book are the Amphibian, the Basilisk, the Iron Dragon, and the Twisted Ent. The book comes with a faux leather cover and gold foil stamping similar to the Player's Manual and the Gamemaster's Guide.
The Retailer Pledge reward comes with 5 copies of each book for about $280. As of the publication of this article, the KS campaign sits at $152,076 with 1,813 backers ($83 per backer) with 22 days to go.
Forbidden Lands RPG originally released back in 2018 (see "New RPG from Creators of 'Tales from the Loop'").
Click on Gallery below for full-size images!