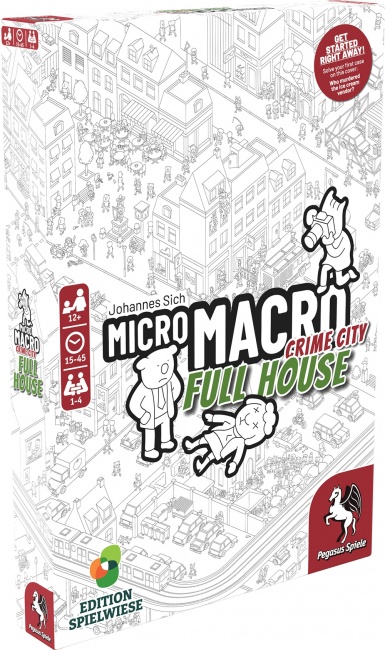 Hot off its
Spiel des Jahres
win, Pegasus Spiele has announced a new
MicroMacro: Crime City
game called
MicroMacro: Crime City –
Full House
, releasing in November. The company also announced Klaus-Jurgen Wrede's Stone Age exploration game
Fire & Stone
, launching Q4 or Q1 2022 (
8.12.2021. Release dates corrected; apologies
).
Like the original version of the award-winning puzzle game (see "Winner of 'Spiel des Jahres' 2021 Unveiled"), MicroMacro: Crime City – Full House challenges players to seek out hidden clues on a lavishly illustrated poster map as they attempt to solve a series of mysteries. Full House is a stand-alone game, set in a different part of the city from the first title in the series and featuring 16 new cases to solve. This version also offers icons to help parents determine the age-appropriateness of each case for younger players.
MicroMacro: Crime City – Full House comes with a 75 x 110 cm poster map, 120 cards covering 16 cases, and a magnifier to help players with their search. The game is intended for 1 to 4 players, ages 10 and up, and plays in around half an hour per case. Created by MicroMacro: Crime City designer Johannes Sich. MSRP is $29.99.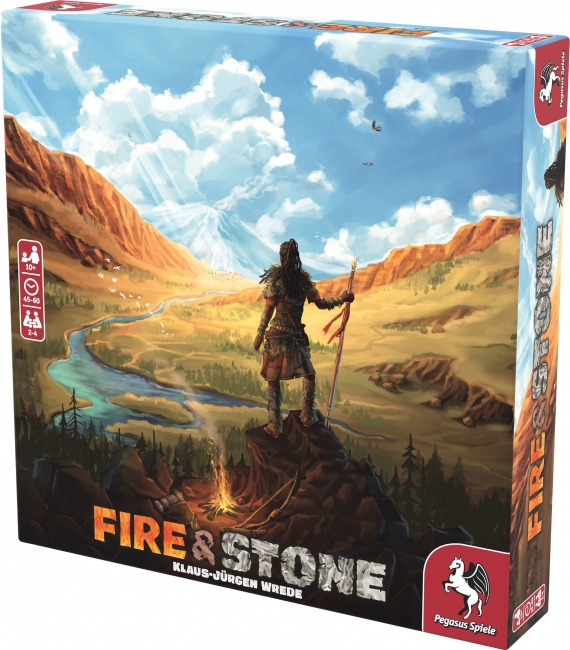 Created by the designer of
Carcassonne, Fire & Stone
transports players to the Stone Age, where they must guide their tribe of nomadic hunter-gatherers as they explore, develop technologies, and expand across the world over three eras. The game features a randomly-built tile-based game board to keep every play fresh.
Intended for 2 to 4 players, ages 10 and up, Fire & Stone takes a little under an hour to play. It includes 1 game board, 95 tiles, 73 cards, 30 tokens, 4 player mats, 12 scout pawns, and 80 hut pawns. MSRP is $39.99.
Pegasus recently released a new title in its Undo series of mystery games (see "Pegasus Spiele Reveals New 'Undo' Game"). In December, the company will release the Port Royal Big Box (see Pegasus Spiele Reveals 'Port Royal Big Box'").