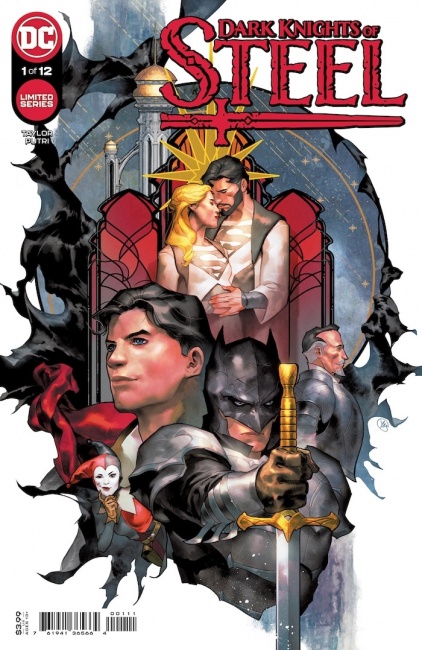 Writer Tom Taylor and artist Yasmine Putri will launch a new DC series in November that will bring DC's legacy characters into a fantasy setting inspired by the Middle Ages.
Dark Knights of Steel
will run for 12 issues. Issue #1, slated for November 2 release, will have a main cover and a 1:25 card stock variant by Putri, a variant cover by Joshua Middleton, and a retailer team card stock variant by Wayne Reynolds. The 32-page comic has an MSRP of $3.99 for the main and Middleton covers and $4.99 for the card stock variants.
Taylor described Dark Knights of Steel as a combination of DC superheroes and high fantasy, with new origin stories for Superman, Constantine, Harley Quinn, and Black Lightning. "This is for the fans of Game of Thrones and Critical Role," he wrote n Twitter, "This is for the kids who took dice to school, who chose their own adventure, and dreamed of flying in a cape." Taylor was one of those kids: He Tweeted that he grew up reading Terry Pratchett and Lord of the Rings as well as comics.
Taylor is also the writer of DCeased, Nightwing, Superman: Son of Kal-El (see "DC Announces New Superman Family Titles"), and Batman: The Detective (formerly titled Batman: The Dark Knight; see "'Batman: The Dark Knight' #1 Sends Bruce Wayne Off on a European Quest").
Click Gallery for covers!