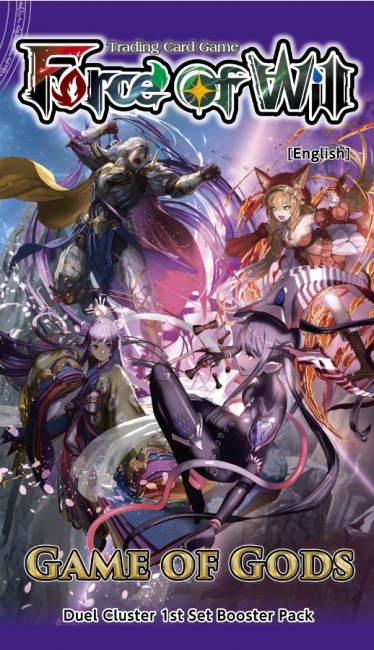 Game of Gods
will feature 93 brand new cards, including 42 Normal cards; 22 Rare cards; 15 Super Rare cards; 5 Marvel Rare cards; 4 Ruler/J-Ruler cards; 5 Basic Magic Stone cards; 4 Will Coin cards; 3 Token cards; and 12 Life Counter cards.
Game of Gods
booster boxes will also include a PR card that is only available for the first printing of the set. Each booster pack will contain 10 random cards, with each booster box containing 36 booster packs. Cartons will contain 6 booster boxes.
Stores that are able to do so may host prerelease events on November 19 using the
Force of Will TCG: Game of Gods Prerelease Kit
. Each kit contains 72 booster packs, 12 copies of a prerelease kit special PR card, 12 copies of a Basic Ruler card, and two prerelease kit special playmats. The
Game of Gods
Pre-release Kit
will also include an
Alternate Souls
acrylic standee.
The
Force of Will Starter Deck- Tales Deck
and
Force of Will Starter Deck - Villains Deck
release alongside the
Game of Gods
booster set on November 26. Each deck features many of the new mechanics debuting in the
Duel Cluster,
each including a new card type Order and new keyword abilities. The decks will also feature two types of cards exclusive to the
Starter Decks
. Each deck includes 51 cards (including a Ruler card, 10 Basic Magic Stone cards, and a 40 card deck), a Will Coin card, a Life Counter card a rule sheet, a playmat sheet, and a quick rule guide.
Starter Deck
displays include 5 decks, with each carton containing 8 displays.
Force of Will, Inc. previously finished the
Saga Cluster
in August with the release of
The Seventh
(see "
Force of Will, Inc. Announces 'The Seventh'
").
Click on gallery below to see full-sized images.